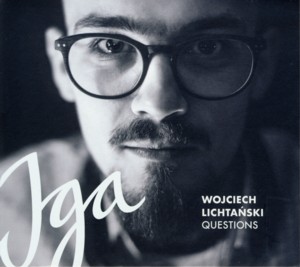 WOJCIECH LICHTANSKI ~ IGA
AUDIO CAVE 2019/002 (Barcode: 5905669566681) ~ POLAND ~ Jazz
Recorded: 2018
Released: 2019
---
This is the second album by the young and upcoming Polish Jazz saxophonist / composer Wojciech Lichtanski

Find albums by this artist

, recorded in a classic quartet setting with players of his generation: pianist Mateusz Palka

Find albums by this artist

, bassist Jakub Dworak

Find albums by this artist

and drummer Patryk Dobosz

Find albums by this artist

, collectively called the Questions

Find albums by this artist

quartet. The album presents nine compositions, eight of which are originals by Lichtanski and one is a standard. The music was recorded at the excellent Monochrom Studio and offers a remarkable sound quality, as expected.

During the five years that separate this album from the debut Lichtanski recorded rather sparingly and as a result this album was highly anticipated. Happily he is able to fulfill the expectations, coming up a long way both as a saxophonist and more importantly as a composer. The music on this album offers a solid and coherent selection of excellent compositions, which are all within the modern mainstream idiom, but offer diversity and sophistication, and most importantly wonderful melodic themes. The treatment of the standard, which usually is a kind of filler on most albums, is absolutely sublime and constitutes one of the strongest statements on the album.

From the early days of his career it was obvious that Lichtanski is an exceptional instrumentalist. Having matured and polished his chops, his saxophone playing a true delight, both technically and emotionally. But his most important forte is the wonderful tone he manages to produce both on the alto and soprano saxophones. It is sweat and mellow, but steady and firm at all times and makes him one of the most distinct voices on the young Polish Jazz saxophone scene, amazingly effective both as a romantic "crooner" and a scorching improviser.

All three players accompanying Lichtanski are already established talents with respected recording legacy, so their superb performances are hardly surprising. Palka is a great pianist and his unexpected accordion contributions on this album are a nice touch. Dworak is a very supportive and creative bassist and does a superb job here. Dobosz, who also has an impressive record behind him, is a tad too busy on this album (my very personal feeling) and too high in the mix, but obviously a first class player.

Overall this is a beautiful album, in many respects the true debut as far as Lichtanski´s career is concerned, which offers excellent modern Jazz of the highest standard, which should satisfy any true Jazz connoisseur on this planet. Wholeheartedly recommended!
---