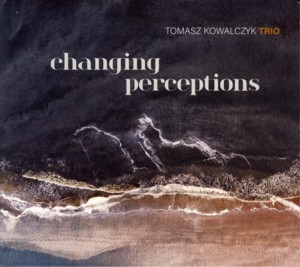 TOMASZ KOWALCZYK ~ CHANGING PERCEPTIONS
NOT ON LABEL (Barcode: 193428198593) ~ POLAND ~ Jazz
Recorded: 2018
Released: 2018
---
This is the debut album by Polish (resident in Hamburg) pianist / composer Tomasz Kowalczyk

Find albums by this artist

, recorded in a classic Jazz piano trio format with bassist Niklas Muller

Find albums by this artist

and drummer Janosch Pangritz

Find albums by this artist

. The album presents a short intro and six original compositions, four by Kowalczyk and two by Muller. The music was superbly recorded and offers an unprecedented, stunning sound quality.

The music is wonderfully melodic, full of melancholy and lyricism and yet at the same time spirited and flowing energetically, which creates the feeling that the album is over very quickly, prompting the listener to press the repeat button.

The trio performs as one organic unit, with an obvious; almost telepathic coordination, which at times is simply astounding. The overall sound is quite different from the classic Jazz piano trio routine, with the bass and drums being up in the mix at the same level as the piano and both of them playing often very distinct roles rather than just providing rhythmic accompaniment.

All three musicians are excellent instrumentalists, each presenting very different personality and mannerisms, which work together quite miraculously. Pangritz is a very "busy" drummer at times, but manages carefully not to disturb the trio´s clarity and breathing space. Muller, who also plays a very nice arco, is also a perfect harmonic supporter keeping the overall sound of the trio together at all times. Kowalczyk´s magic fingers are all over the keyboard, but remain coherent and precise, avoiding the trap of trying to say too much.

Overall this is a wonderful Jazz piano trio album, full of excellent original music and a true joy of playing. Although the music is conventional, it is as good as mainstream Jazz gets, doing everything exactly right. It is a very strong debut statement, which immediately calls for more to follow, and congratulations all definitely due. For melodic Jazz piano trio lovers, this is a dream come true.
---