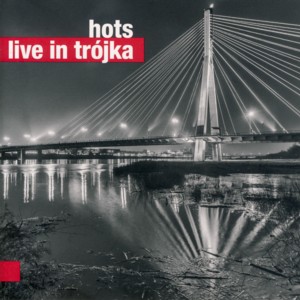 HOTS ~ LIVE IN TROJKA
FOR TUNE 0139 (Barcode: 5906395808526) ~ POLAND ~ Jazz
Recorded: 2017
Released: 2019
---
This is the third album by the Polish Jazz ensemble HoTS

Find albums by this artist

, led by guitarist / composer Mikolaj Poncyljusz

Find albums by this artist

, which also includes trumpeter Radek Nowak

Find albums by this artist

, saxophonist Bartosz Tkacz

Find albums by this artist

, bassist Adam Prokopowicz

Find albums by this artist

and drummer Maciek Wojcieszuk

Find albums by this artist

. Pianist Aga Derlak

Find albums by this artist

joins the ensemble on four tracks. The album was recorded at Studio Three of the Polish Radio and presents six original compositions, all by Poncyljusz, some originating from the ensemble´s earlier recordings and other appearing here for the first time.

The music continues the tradition of modern Polish mainstream Jazz, which characterized the ensemble since its inception, emphasizing the solid compositions by the leader, which are ideal vehicles for all the members of the ensemble to express their individual talents. The addition of Derlak expands the overall ambience of the ensemble and the harmonic layers, which are now shared by two instruments.

The music remains somewhat slow and dynamically limited, with the individual tunes building up the tension very gradually, but since this is the ensemble´s trademark, one has to accept this as a fact and play along, in order to enjoy the music in full.

All the six young Polish Jazz players display the extremely high level of the local scene, with their individual contributions all being beyond reproach. Personally Prokopowicz turns out to be the outstanding musician on this album, with his beautifully melodic and wonderfully solid bass lines being the glue that keeps all this music together. Wojcieszuk, who is the new member of the ensemble, is a more dominant player than his predecessor, which marks a significant improvement in the role of the rhythm section and takes the music to a much agile level.

Derlak´s presence is also a very significant factor to the success of this album. She manages to "fill the holes" with her intelligent piano chords and lifts the overall sound to a new level. Her presence allows Poncyljusz to play much more adventurous solos, where he does not need to worry about the harmonic parts. The years of playing together also come to effect of course and this album is definitely the most enjoyable recording by this ensemble.

Overall this is a splendid display of live Jazz played by the young generation of Polish Jazz musicians, who are the future of the local scene. For listeners who never came across an album by HoTS, this is a splendid opportunity to jump on the wagon, with Derlak definitely serving as the proverbial cherry on top. Warmly recommended!
---