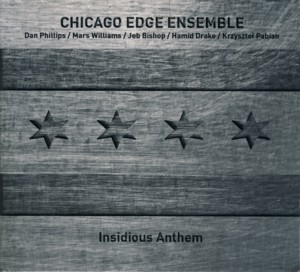 CHICAGO EDGE ENSEMBLE ~ INSIDIOUS ANTHEM
TROST 177 (Barcode: 9120036682733) ~ USA ~ Free Jazz / Improvised Music
Recorded: 2017
Released: 2018
---
This is the second album by the American Jazz quintet Chicago Edge Ensemble

Find albums by this artist

, led by guitarist / composer Dan Phillips

Find albums by this artist

, which also includes trombonist Jeb Bishop

Find albums by this artist

, saxophonist Mars Williams

Find albums by this artist

, Polish (based in US) bassist Krzysztof Pabian

Find albums by this artist

and drummer Hamid Drake

Find albums by this artist

. The album presents eight original compositions, all by Phillips.

In contrast to the debut album, the music on this album is much more organized, with clearly composed themes, which are pushed forward and directed by the leader, and then stretched into lengthy improvised passages, backed by a swinging rhythm section. As such this music is closer to contemporary modern Jazz, which includes freely improvised parts, but is focused in coherent more often than not.

All five instrumentalists are obviously very experienced and talented, which contributes to the superb level of execution felt all the way through. Phillips, who uses a scorching Fusion oriented sound, is the most unique voice of the quintet, although Bishop and Williams contribute hot and inspiring parts as well. Pabian is a very distinctive bassist, perfectly balancing the rhythmic pulsations with the harmonic support he offers to the soloists. Drake is a Master drummer, who is well beyond the need to prove anything and his versatile rhythmic support is beyond reproach.

Overall the album offers some very exciting modern Jazz, which offers an elegant balance between melody and Freedom, with the music swinging splendidly from start to finish. With first class musicianship and great compositions, the album is real pleasure to listen to and deserves repeated spins to get all the hidden complexities, which are revealed only after careful and attentive listening. Personally I believe this is a much better offering than the debut, which already makes me curious as to their next offer. Well done Gentlemen!
---