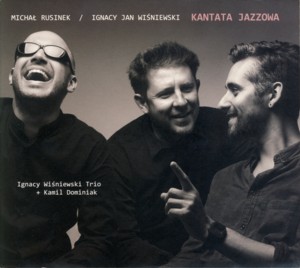 IGNACY JAN WISNIEWSKI ~ KANTATA JAZZOWA
WOOD AND MOOD 0011 (Barcode: 5907222681077) ~ POLAND ~ Jazz & Poetry
Recorded: 2018
Released: 2018
---
This is the second album by Polish Jazz pianist / composer Ignacy Jan Wisniewski

Find albums by this artist

, recorded with the same trio he used to record his debut, which includes bassist Adam Zuchowski

Find albums by this artist

and drummer Pawel Osicki

Find albums by this artist

. In addition the album features also vocalist Kamil Dominiak

Find albums by this artist

. Together they present eight "songs", all composed by Wisniewski to the lyrics written specifically for this project by Polish Poet Michal Rusinek

Find albums by this artist

. The entire song cycle is called a "Jazz Cantata" and of course firmly belongs to the marvelous Polish Jazz & Poetry tradition. The album was beautifully recorded at the now legendary Monochrom Studio and engineered by Ignacy Gruszecki

Find albums by this artist

.

The music presents an ambitious amalgam of cross-genre modern Jazz, with roots in contemporary Classical music, melodic mainstream Jazz and Avant-Garde improvisation, all tastefully put together with the lyrics, creating an impressive and powerful statement. Wisniewski, who concentrates mainly on composing music for theatre, has definitely a very strong theatrical "streak" as a composer, which comes to full bloom herein.

The music is wonderfully executed, both on the instrumental and the vocal layers. Dominiak, who is not a Jazz singer, stands up to the challenge with flying colors, using his vocal abilities and more importantly theatrical expressionism to the max. The piano trio offers some excellent instrumental passages, shifting between melodic / rhythmic statements and Free Improvised moments with grace and elegance. The album offers a perfect balance between the instrumental and vocal contents, without one or the other being dominant, which is a rare quality in such projects.

The poetry, which sadly is only accessible to native Polish speakers, is a wonderful example of the thriving contemporary Polish Poetry scene. Rusinek (well-known as the private secretary of the great Polish Poetess Wislawa Szymborska

Find albums by this artist

) is an accomplished writer / translator / poet and his brilliant plays on words are a true delight.

Overall this is another valuable addition to the Polish Jazz & Poetry legacy, which is being kept alive by the new generation of Polish Jazz composers / musicians, with the same passion and dedication as that of the pioneers of the genre six decades earlier. Definitely highly recommended!
---