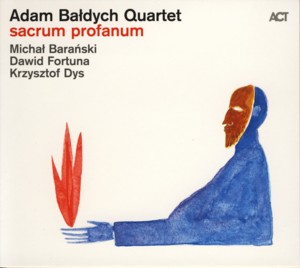 ADAM BALDYCH ~ SACRUM PROFANUM
ACT 9881 (Barcode: 614427988126) ~ POLAND ~ Jazz-Classical Fusion
Recorded: 2018
Released: 2019
---
This is an album by Polish Jazz violinist / composer Adam Baldych

Find albums by this artist

, recorded in a quartet setting with Polish Jazz musicians: pianist Krzysztof Dys

Find albums by this artist

, bassist Michal Baranski

Find albums by this artist

and drummer Dawid Fortuna

Find albums by this artist

. It is the first album recorded by Baldych with Polish musicians released on the prestigious ACT

Find albums on this label

label, which released several earlier albums by Baldych, recorded with international partners. The album presents ten tracks, five of which are original compositions by Baldych, three are medieval / baroque sacred music pieces arranged by Baldych and Dys, one is an ancient Polish hymn and one is by contemporary, deeply spiritual Tatar-Russian avant-gardist Sofia Gubaidulina

Find albums by this artist

.

The album´s title refers to the "concept" which Baldych wishes to present to the listener, based on the philosophical / religious conflict between the sacred and the profane worlds, in which we, human beings, exist simultaneously. The trivial interpretation of that concept would be of course to consider the five sacred pieces as the Sacrum facet of the music and the original pieces as the Profanum, but the truth is way more complicated than such simplistic approach. Baldych obviously treats Classical Music and Jazz with the same measure of spirituality and his life and musical path so far are a classical example of the rite of passage between the diverse musical idioms, which results in his own compositions being certainly no less spiritual / sacred than those a priori designated as such.

The entire musical contents of this album can be therefore considered as an amalgamation of the lofty, spiritual ingredients of music and its earthly embodiment, which we are able to actually hear; the notes, harmonies, pulses and melodies. The overall atmosphere is deeply lyrical and spiritual of course and since Baldych personifies the Polish melancholy more profoundly than most, the resulting music is both deeply Polish as it is Universal. The inclusion of the Gubaidulina piece will hopefully awaken interest in the work of this exceptional composer among new listeners, as it is truly amazing.

Although obviously deeply involved in Jazz improvisation, this music should be of interest to a wide audience of music connoisseurs, those from the Jazz side of the spectrum, Classical and Sacred Music enthusiasts and all true lovers of great music. It is, as already stated, completely universal and boundless, and as such able to touch the listeners both spiritually and intellectually.

Following Baldych´s musical path over the last decade has been a true revelation. Being blessed by enormous talent and unprecedented skill is often not quite enough to ensure an Artistic triumph, but in his case he is also hard working, disciplined and open minded, which enables him to achieve the two fundamental goals leading to Artistic accomplishment: consistency and constantly coherent course of progression. As a result his international career keeps blossoming and his collective recording précis to date is unblemished.

Overall this is an amazing piece of Artistry, splendidly conceived, put together and executed by the finest musicians on the Polish Jazz scene, which should be an essential part of any serious music collection. Absolutely not to be missed!
---