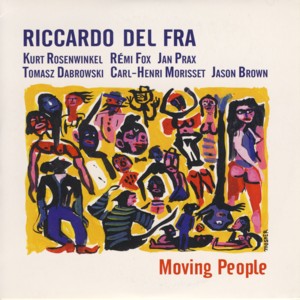 RICCARDO DEL FRA ~ MOVING PEOPLE
CRISTAL 276 ~ ITALY ~ Jazz
Recorded: 2018
Released: 2018
---
This is an album by veteran Italian (resident in France) bassist / composer Riccardo Del Fra

Find albums by this artist

, who leads an international sextet, which includes Polish trumpeter Tomasz Dabrowski

Find albums by this artist

, German saxophonist Jan Prax

Find albums by this artist

, French saxophonist Remi Fox

Find albums by this artist

and pianist Carl-Henri Morisset

Find albums by this artist

and finally American drummer Jason Brown

Find albums by this artist

. American guitarist Kurt Rosenwinkel

Find albums by this artist

appears as a special guest. The album presents ten original compositions, all by Del Fra.

The music is mainstream, beautifully melodic contemporary Jazz, lyrical and melancholic, but at the same time full of zest and superb compositions. Contrary to the initial impression the music gets quite complex and unexpected at times, with broken themes and odd meters, but at the same time never loses focus or coherence. As a result the music flows swiftly, completely absorbing the listener and the album seems to be over very quickly. The relatively short tracks and their diversity also add to this effect. The album is first and foremost an exceptional display of Del Fra´s compositions.

The musicianship is superb throughout, with every note played being just the right one at the right time. All these musicians, who represent different cultural backgrounds and age groups, are able to cooperate splendidly, creating a delicate mesh of sounds and harmonies.

Listeners familiar with the work of Dabrowski, who is usually associated with a more Avant-Garde Jazz activity, will be definitely surprised by his mellow contributions here, which are of course as delightful as everything else he ever did.

Rosenwinkel is not, in my opinion, the ideal addition to the sextet, as his playing is way more Fusion oriented and electric than the (mostly acoustic) music itself or the stylistics of the rest of the musicians and his long guitar synthesizer solos frankly sound a bit out of place, as much "attractive" as they are. But of course he is a very able instrumentalist.

Overall this is an excellent album from start to finish, with strong compositions and exquisite performances, which should delight Jazz connoisseurs the world over.
---