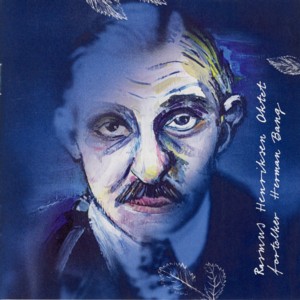 RASMUS HENRIKSEN OCTET ~ FORTOLKER HERMAN BANG
GATEWAY RHBB 02 (Barcode: 5707471055762) ~ DENMARK ~ Jazz & Poetry
Recorded: 2012
- 2014
Released: 2018
---
This is the second album by Danish Jazz trombonist / composer / arranger / bandleader Rasmus Henriksen

Find albums by this artist

, this time recorded in an octet setting with musicians associated with the Odense Music Academy, including two Polish participants: guitarist Lukasz Borowicki

Find albums by this artist

and bassist Michal Nienadowski

Find albums by this artist

. The octet also includes vocalist Amanda Lagoni

Find albums by this artist

. The album presents nine original compositions by Henriksen, which are based on poems by the Danish poet Herman Bang

Find albums by this artist

, which together construct a suite of two three-part cycles, separated by another three poems serving as prelude, entrŽacte and epilogue. As such this is of course a splendid example of the Jazz & Poetry idiom.

The music is beautifully lyrical and melancholic, with a strong Nordic tinge, flowing gently from one melody to another, perfectly matched together. The arrangements are classic big ensemble Jazz formats, featuring the vocals in the centre of the attention, but allowing short instrumental soli to appear as well. Sadly the lyrics in Danish are accessible only to listeners who understand the language, but even if one is not a native Danish speaker, the vocal parts are still impressive in their melodic / theatrical delivery. The performances are all perfect and although executed by student, under the watchful supervision of Henriksen they are simply excellent.

Overall this is a very delicate and wonderfully put together project that offers the essence of Scandinavian / European Jazz, which is highly aesthetic and intelligent and combines music and poetry in order to enhance the splendor of both these elements of Art. Warmly recommended!
---