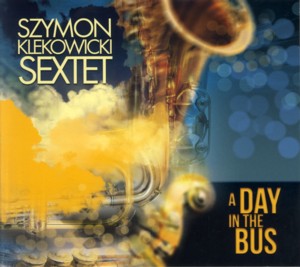 SZYMON KLEKOWICKI ~ A DAY IN THE BUS
AUDIO CAVE 2019/001 (Barcode: 5905669566698) ~ POLAND ~ Jazz
Recorded: 2018
Released: 2019
---
This is the debut album by young Polish Jazz trombonist / flugelhornist Szymon Klekowicki

Find albums by this artist

, recorded in a sextet setting with saxophonist Jakub Lepa

Find albums by this artist

and Marcin Dabrowski

Find albums by this artist

, pianist Adam Jarzmik

Find albums by this artist

, bassist Tymon Trabczynski

Find albums by this artist

and drummer Michal Dziewinski

Find albums by this artist

. The album presents seven original compositions, five by Klekowicki and two by Jarzmik.

The music is conventional melody based contemporary European Jazz, with solid compositions and arrangements, which create ideal opportunities for the members of the sextet to show their chops. The two compositions by Jarzmik are more rounded and mature, similarly to his excellent work presented on his two earlier album releases. Klekowicki´s music is somewhat Bebop oriented, but by no means outdated and full of great ideas. All the compositions are coherent and interesting, creating a wonderful musical flow that seems to be over way too soon, leaving the listener wishing for more.

The level of execution is of course nothing short of excellent all the way through and these "youngsters" sound like Jazz veterans, which never ceases to amaze. The saxophone unisono parts are a neat and effective arrangement trick, which produces a "big" sound of the entire sextet and wonderful harmonic "colorization". Klekowicki seems to be proficient both on trombone and flugelhorn, thus adding sonoric diversity to the entire album. Jarzmik is of course also a terrific piano player and his superb melodic phrases ale balsam on the ears. The rhythm section plays exactly what is expected of them, keeping strict time and not being obtrusive, which is what this music needs the most, being already dense enough, but they get an opportunity to shine as well.

Overall this is a first class debut effort, which gives Klekowicki a solid head start of his career. He joins the ranks of the young generation of European Jazz musicians, who proudly keep the idiom alive and kicking, making us, the elders, smile with hope that not all is lost. Albums like that one are heartwarming and obviously highly recommended. Already waiting for the next one!
---