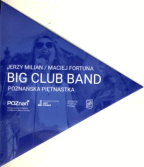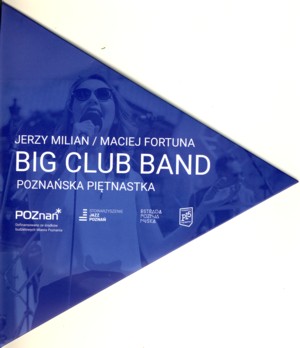 JERZY MILIAN / MACIEJ FORTUNA ~ BIG CLUB BAND
SJP 006 ~ POLAND ~ Jazz-Pop Fusion
Recorded: 2018
Released: 2018
---
This is the second installment of the project dedicated to the music by and the memory of the iconic Polish Jazz vibraphonist / composer / arranger / bandleader Jerzy Milian

Find albums by this artist

, carried out trumpeter / composer Maciej Fortuna

Find albums by this artist

. The music is performed by the re-activated Poznanska Pietnastka Orchestra

Find albums by this artist

(The Poznan Fifteen Orchestra), which was originally co-founded by Milian, in his hometown as a Radio Orchestra and for which he wrote many original compositions. The re-activated Orchestra under the artistic direction of Fortuna consists of young generation Polish Jazz musicians. The album presents seven compositions by Milian and two compositions by Andrzej Zielinski

Find albums by this artist

, all arranged and orchestrated by Iwona Witek

Find albums by this artist

.

The music Milian composed for the Poznanska Pietnastka Radiowa at the time was not intended to be Jazz oriented but was basically instrumental entertainment music, which was more ambitious than simplistic popular music. The new arrangements stay more or less faithful to the originals but are slightly more Jazzed up and feature more Jazz oriented soloing.

Overall this is only marginally Jazz oriented music, but the album is a nice gesture towards Milian and his contribution to Polish Jazz and Polish music in general and an educational enterprise to get young Jazz musician involved in Big Band / Orchestral music, which is almost completely absent from the contemporary scene.

For people interested in the career of Jerzy Milian and his compositions, this is a welcome reminder of his mostly forgotten and hard to find early works. This album is not a commercial release and as such might be not so easy to find, but its historical and educational values are obvious. It follows the same unusual triangular design, unpractical for storage, but nevertheless very unique.
---