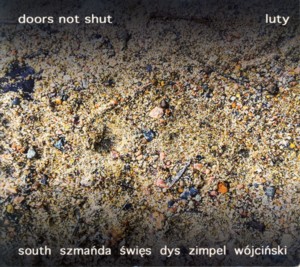 DOORS NOT SHUT ~ LUTY
AUDIO CAVE 2018/013 (Barcode: 5905669566674) ~ POLAND ~ Avant-Garde Jazz
Recorded: 2016
Released: 2018
---
This is the debut album by the sextet Doors Not Shut

Find albums by this artist

, which comprises of five veteran Polish Jazz musicians: clarinetist Waclaw Zimpel

Find albums by this artist

, pianist Krzysztof Dys

Find albums by this artist

, bassists Andrzej Swies

Find albums by this artist

and Ksawery Wojcinski

Find albums by this artist

and drummer Krzysztof Szmanda

Find albums by this artist

. They are joined by Australian percussionist Philip South

Find albums by this artist

. The album presents ten original compositions by the sextet members, mostly co-composed by several of the musicians.

The concept of the sextet is pretty loosely conceived, since only Szmanda and South play on all the ten tracks, Swies plays on nine tracks, Dys plays on just three tracks and finally Zimpel and Wojcinski play on five tracks. As a result the entire sextet does not play together on any of the tracks.

The music is an interesting amalgam of Ambient Music and Free Jazz, with strong World Music influences, especially on the rhythmic plane. The overall sound and approach are quite minimalist and the music mostly flows slowly, rarely displaying any strictly melodic contents. The bass pulsations (either electric or acoustic) and the ethnic / polyrhythmic drumming are the constant elements of the music, with the piano and clarinet being the only melodic anchors.

The entire concept definitely works well, displaying a lot of originality and fascination with rhythm, being quite unique in that area. The drummers get most of the exposure, followed by the bassists, with Dys and Zimpel adding spice and color to the proceedings, but not dominating the concept. The three quartet tracks with Dys are closest to Jazz, while the five tracks with Zimpel are Ambient Improvised Music which listeners familiar with other recordings by Zimpel should find quite recognizable. The remaining two tracks featuring only drums and percussion (with some vocal and spoken word ornamentation) are perhaps the roots of the music.

Overall this is a bold and highly innovative concept album, which offers originality and excellent musicianship, as well as intellectual challenge, which is often missing from less ambitious Jazz oriented recordings. This album is recommended for the more adventurous and open-minded listeners, who are ready to embrace new concepts. Although Zimpel plays only on half of the tracks, this album presents some of this most moving work, which is an absolute must to his followers. Highly recommended!
---