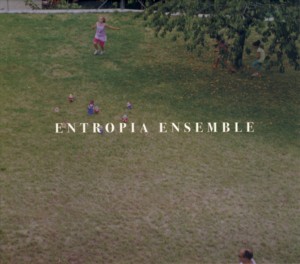 ENTROPIA ENSEMBLE ~ ENTROPIA ENSEMBLE
ALPAKA 007 (Barcode: 192914874195) ~ POLAND ~ Avant-Garde Jazz
Recorded: 2018
Released: 2018
---
This is the debut album by the young Polish Jazz quartet Entropia Ensemble

Find albums by this artist

, which consists of saxophonist Dariusz Stanislawski

Find albums by this artist

, keyboardist Marcel Balinski

Find albums by this artist

, bassist Rafal Rozalski

Find albums by this artist

and drummer Kacper Kazmierski

Find albums by this artist

. The album presents eleven original compositions, six composed by Balinski and one each by Kazmierski and Stanislawski. The remaining three compositions remain mysteriously unauthored. The music was recorded at the Monochrom Studio and engineered by Ignacy Gruszecki

Find albums by this artist

with the usual spectacular sonic quality.

The music is a highly interesting collection of modern Jazz compositions, melody based but clearly open to include unexpected twists and turns, polyrhythmic tempi and Free group improvisations, all this without loosing the focus for a single moment. These clever young chaps seem to have a complete disregard of stylistic conventions and frivolously move between tango, Free Jazz and Swing within one tune without even blinking, in the true spirit of the Avant Garde.

There is plenty of space on the album for personal expressions and all four members of the quartet get proper exposure. The piano leads the twisted melodic plot, the saxophone improvises on top, the bass takes care of the linkage between the parts as well as carrying the lot together and the drummer adds a steady clockwork beat and frenzy explosions to confuse the listener whenever possible.

Overall this is an incredibly intelligent, devilishly clever (perhaps a bit too clever), totally surprising, completely unusual piece of music, definitely one of the most striking (if not the most) debut albums of 2018 on the vibrant Polish Jazz scene. With hundreds of albums released in Poland alone, recording a highly original and completely innovative album is an almost impossible task – but these young musicians stand up to the challenge with eloquence and a fantastic sense of humor (or sarcasm). Absolutely stunning!
---