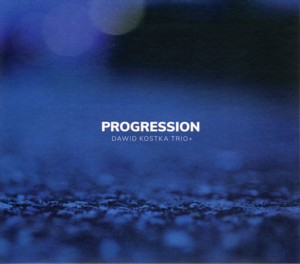 DAWID KOSTKA ~ PROGRESSION
SJ 036 (Barcode: 5912596066689) ~ POLAND ~ Jazz
Recorded: 2018
Released: 2018
---
This is the second album by Polish Jazz guitarist / composer Dawid Kostka

Find albums by this artist

, recorded in a trio setting with bassist Damian Kostka

Find albums by this artist

and drummer Mateusz Brzostowski

Find albums by this artist

, with two top Polish Jazz musicians as guests: saxophonist Maciej Kocinski

Find albums by this artist

and pianist Pawel Kaczmarczyk

Find albums by this artist

. The album presents nine original compositions, all by Dawid Kostka. The music was recorded at the Monochrom Studio and engineered by Ignacy Gruszecki

Find albums by this artist

and offers a spectacular sound quality, precision and clarity; a heaven for Hi-Fi enthusiasts.

The music is a superb collection of stylistically diverse compositions, all melody based but offering a wide spectrum of moods, feelings and tempi, clearly pointing out Kostka´s compositional abilities. Stylistically Kostka seems to feel equally at ease with post-Bebop, Fusion and Modern European Jazz and listening to the album is a true joy ride through contemporary Jazz.

The performances are also nothing short of stellar. The two guest musicians require no introduction to Polish Jazz cognoscenti and their performances here are as good as one might expect, far beyond just a guest appearance, involving a full integration within the quintet sound. Kocinski, who sadly slightly dropped off the horizon lately, delivers some heartfelt soli that are wonderful reminders of his heydays with Soundcheck

Find albums by this artist

and Kaczmarczyk never disappoints with his fluidity and musicality.

The rhythm section is perfectly integrated with the soloists and offers a versatile and interesting technical competence, with solid and clear bass lines that hold the music together and support the harmony and creative drumming pulsations which are both precise and imaginative.

But of course Dawid Kostka is the true hero of this album, playing outstanding guitar parts throughout, changing his sound and attack often and presenting a portrait of a mature Artist, who knows exactly where he want to go with his music. His guitar artistry and obvious virtuosity are the absolute highlight of this album, which is definitely the best Polish Jazz guitar offering for 2018.

Overall this is the true debut album fully deserving to feature Dawid Kostka´s name on it, with the debut recorded a couple of years earlier being just a forgettable incident, which was just a teaser of his true abilities (as mentioned in my review of that album). This is definitely a major achievement and places Kostka in the forepost of the Polish Jazz guitar players, which is rather small considering the size and the vitality of the scene today. Wonderful from start to finish, this album is a true delight and a must for Polish / European Jazz connoisseurs!
---