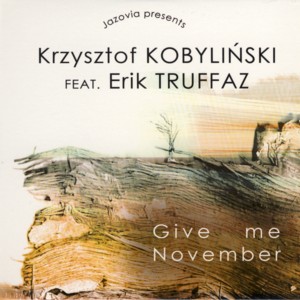 KOBYLINSKI / TRUFAZ ~ GIVE ME NOVEMBER
JAZOVIA ~ POLAND ~ Jazz
Recorded: 2017
Released: 2018
---
This is the debut album by a duo comprising of veteran Polish Jazz pianist / composer / bandleader / entrepreneur Krzysztof Kobylinski

Find albums by this artist

and French trumpeter Erik Truffaz

Find albums by this artist

. The album presents nine original compositions, all by Kobylinski.

The music is all based on the strongly melodic themes, which are Kobylinski´s trademark, full of typical Polish melancholy and lyricism and often reflecting references to Polish Folklore. Some of these compositions appeared on earlier recordings by Kobylinski, but this intimate duo setting puts them in a different light and mood, and makes them worth revisiting.

Most of the improvisational artistry on this album is naturally performed by Truffaz, who is a proven Master of his instrument. On this album Truffaz demonstrates a mellow, melodic mood, as appropriate for the circumstances, but his playing is full of artistry and sensitivity. Kobylinski stays mostly in the background, accompanying the trumpet lead amicably, taking occasional solos as well. The duo works together well and manages to create a full musical experience, proving that the unusual piano / trumpet instrumentation is completely viable and artistically convincing.

Overall this is a enjoyable album, which emphasizes the gentle side of the Jazz idiom, well within the mainstream tradition, but offers an unusual instrumental setting and deeply melodic contents, which is accessible to a wide range of Jazz and Jazz related listeners.
---