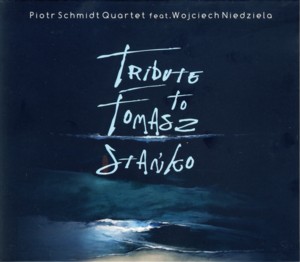 PIOTR SCHMIDT ~ TRIBUTE TO TOMASZ STANKO
SJ 038 (Barcode: 5912596066696) ~ POLAND ~ Jazz
Recorded: 2018
Released: 2018
---
This is an album by Polish Jazz trumpeter / composer / bandleader / entrepreneur Piotr Schmidt

Find albums by this artist

, recorded in a quartet setting with pianist Wojciech Niedziela

Find albums by this artist

, bassist Maciej Garbowski

Find albums by this artist

and drummer Krzysztof Gradziuk

Find albums by this artist

. The album presents twelve compositions, eight of which are credited to all four members of the quartet, two were composed by Schmidt and one each were composed by Krzysztof Komeda

Find albums by this artist

and Bartek Pieszka

Find albums by this artist

.

The death of the Polish / European Jazz icon, trumpeter / composer / bandleader Tomasz Stanko

Find albums by this artist

, in June of 2018, marked an end of a chapter, or rather an end of an era in European Jazz. Although in recent years many of the most prominent representatives of post WWII European Jazz sadly departed, Stanko was in many respects more than most an epitome of modern European Jazz and his life and career exemplified the most important characteristics of the idiom. His relentless search of uncharted territory, complete disregard of fads and fashions, his open-mindedness and chameleonic, often extremely dramatic changes in his stylistic approach to Jazz and above all his aesthetics, with reminded uncompromising till the very end, were all also often characteristic of many other leading European Jazz Masters, who managed to create an entirely new form of the Jazz essence, completely free of the limitations and shackles enslaving the genre in the past.

Tributes are a tricky business, especially so in the case of iconic figures, which were active for decades and managed to produce not only a rich legacy of recorded music, but more importantly were constantly groundbreaking and innovative. How can a "tribute" album express a respectful and artistically coherent picture of an icon? It takes a lot of courage and determination to attempt a tribute recording, which will be meaningful and offer some intrinsic value beyond being just a reflection of the light of a Giant, with the possibility of failure always lurking in the background.

Considering the fact that Stanko´s legacy was to a large extent involved with Avant-Garde, Improvised Music and Free Jazz, whereas Schmidt consistently dedicates his career to more mainstream manifestations of the Jazz idiom, always emphasizing melody, harmony, ambience and lyricism, the first reaction to the idea of Schmidt recording a Stanko tribute might be that of disbelief and surprise. But Schmidt already proved to be a mastermind of invention in the past and this time he has surely outdone himself, by finding an ingredient of Stanko´s legacy that fits like a glove to his own modus operandi. As a result Schmidt, rather than creating a "general" tribute to Stanko, decided to put the spotlight on the gentler side of the Stanko´s heritage – Stanko the charmer, the balladeer, the weaver of heartbreakingly beautiful melodies, in short Stanko the Gentle Giant.

The resulting concept presents an album full of beautiful, melodic, lyrical Jazz, which strongly resembles that gentle side of Stanko that we all love, but at the same time is completely original as far as the music itself is concerned. The atmosphere and ambience of the album are wonderfully coherent and the music flows serenely penetrating directly the very soul of the listener. The decision of not using and specific tunes composed by Stanko, but creating instead music that "might have been composed" by him is of course brilliant in every respect.

The quartet performing the music is ideal for the task. Garbowski and Gradziuk played with Stanko in the recent years and know his music intimately, and their position as one of the leading Polish Jazz rhythm sections is fully justified. They add the ingredients of space and freedom to the quartet´s playing, which is exactly what this music needs to make it completely unwavering and related to Stanko´s musical spirit. Niedziela is beautifully romantic and expressive, with each and every note he plays being exactly what is needed to make the overall sound perfect. Schmidt plays delightfully as well, rather sparingly and delicately, again exactly right for what this music needs. At times, with the eyes closed, his trumpet sounds exactly like Stanko´s, but obviously Schmidt is not trying to imitate Stanko´s playing but, as the entire album does, reproduce the very Stankoish ambience and spirituality.

Overall this is a wonderfully executed and cleverly planned piece of music, which achieves the ambitious goal assigned to it in full. It is also a textbook example of what "tribute" albums should sound like, as well as a wonderful example of a bridge over a chasm of the infamous generation gap, which enables a smooth transition of the heritage from one generation to another. Polish Jazz at its best!
---