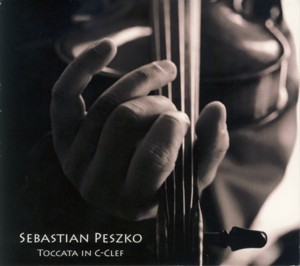 SEBASTIAN PESZKO ~ TOCCATA IN C-CLEF
NOT ON LABEL (Barcode: 4050215449015) ~ POLAND ~ Gypsy Jazz
Recorded: 2017
Released: 2018
---
This is the debut album by Polish born, raised in Spain and currently residing in Berlin violist / composer Sebastian Peszko

Find albums by this artist

recorded with Canadian guitarist Charles Frechette

Find albums by this artist

and Danish bassist Kenneth Dahl Knudsen

Find albums by this artist

. Trumpeter Dima Bondarev

Find albums by this artist

guests on a couple of tracks. The album presents nine original compositions, all by Peszko. The album offers an excellent sound quality with every note perfectly audible.

The idea behind this album is to present the viola as a solo instrument outside of the familiar / usual Classical Music environment and to cover a wide range of genres like Jazz, Blues or Folklore, with an obvious wink towards Classical sources. Although the compositions are unrelated, the album has a conceptual structure with intro, body and outro, concluded by a solo viola piece.

The music is diverse stylistically, but offers a coherent continuum and beautiful melodic themes. Gypsy Jazz and even American Bluegrass can be heard as additional influences to those already mentioned above and the trio handles the different moods with elegance and flair. The wonderfully worm and completely acoustic sound of this music is an additional asset.

All the players are first class instrumentalists of course and the trio performances are well balanced and offer a possibility to clearly hear not only the soloing but also the excellent accompaniment. People familiar with this kind of music will find the sound of the viola delightful of course and although the violin usually plays the lead in such musical environment, the viola in the hands of Peszko manages to sound every bit as formidable.

Listeners who love Gypsy Jazz and the connoisseurs of the viola sound should find this album simply delightful. Warmly recommended!
---