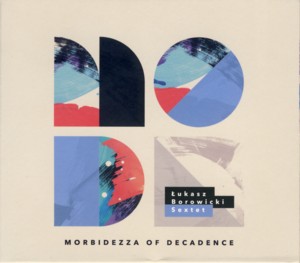 LUKASZ BOROWICKI ~ MORBIDEZZA OF DECADENCE
MULTIKULTI MPJ 021 (Barcode: 5907529223598) ~ POLAND ~ Jazz
Recorded: 2017
Released: 2018
---
This is the fourth album by Polish (resident in Denmark) Jazz guitarist / composer Lukasz Borowicki

Find albums by this artist

recorded this time with a sextet, which also features three Danish musicians: trumpeter Mads la Cour

Find albums by this artist

, pianist Soren Gemmer

Find albums by this artist

and drummer Anders Mogensen

Find albums by this artist

and two Polish musicians: saxophonist Bartlomiej Wawryniuk

Find albums by this artist

and bassist Mariusz Prasniewski

Find albums by this artist

. The album presents eight original compositions, all by Borowicki.

The music on this album takes a step back towards more structured / composed modern European Jazz, with emphasis on composition and ensemble effort. In contrast to the typical albums produced by young Polish Jazz musicians these days, this album is much closer in spirit to Scandinavian Jazz, not only due to the fact that half of the sextet´s members are Danish, but mainly due to the character of the compositions, which offer typical Nordic open space and "windy" ambiance. The music is relaxed, and offers a lot of breathing space for all the musicians to solo and interplay extensively, with every single note being perfectly clearly audible.

Borowicki plays the guitar with wonderful minimalist, almost completely acoustic touch, shunning flashy displays of egocentric show-off. All the rest of the sextet members follow his lead in this respect, and the album is a wonderful example of mutual respect and understanding between the musicians, as well as a display of the elegance, restraint and artistry that characterizes European Jazz.

The sextet members are all superb instrumentalists, and they all contribute equally to this album´s success. Wonderfully "cool" trumpet parts by la Cour, beautifully melodic solos by Gemmer and spirited saxophone parts by Wawryniuk are kept in check by the solid and yet creative work by the rhythm section, which is fully up to par with the front line players.

Overall this is an excellent album in every respect, clear evidence that the prolific work of Borowicki is consistently excellent and has a lot to offer in a long term. Full of great compositions and excellent playing, this album is an indicator of how young European Jazz is exploding with talent and extraordinary quality, which never ceases to amaze. Well done Gentlemen!
---