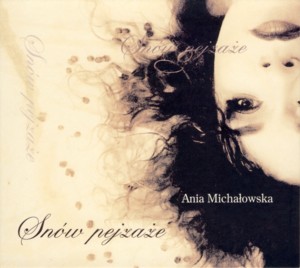 ANIA MICHALOWSKA ~ SNOW PEJZAZE
SJ 023 (Barcode: 0105912596066) ~ POLAND ~ Jazz
Recorded: 2017
Released: 2017
---
This is the debut album by young Polish Jazz vocalist Ania Michalowska

Find albums by this artist

, recorded with a core trio comprising of keyboardist Michal Iwanek

Find albums by this artist

, who was also in charge of the arrangements, bassist Michal Kapczuk

Find albums by this artist

and drummer Sebastian Kuchczynski

Find albums by this artist

. On three of the songs she is accompanied additionally by a brass section and on four by a sting quartet. The album presents nine original songs, all of which were composed by Ania´s husband Jakub Kotynia

Find albums by this artist

(two co-composed by her), who also plays guitar on four of the songs. The lyrics to the songs were written by four different lyricists. All of the songs feature lyrics in Polish, except two which utilize lyrics in English. The album also offers excellent sound quality.

The songs are all beautifully lyrical and offer incredible melodic sensitivity. The typical Polish melancholy is omnipresent, which is hardly surprising, and is often emphasized by the lyrics, which are all intelligent and insightful. The music is wonderfully and skillfully arranged, to offer sound versatility and emotional vistas, which keep changing from one song to another. Musically the album is a true gem, masterfully weaved by all the participants. Although Michalowska is able to sing the English lyrics quite elegantly, my advice would be to give this a rest, as her Polish delivery is simply infinitely more effective.

Michalowska has a steady, refined voice, which she uses smoothly and without effort, applying her abilities skillfully to express emotions. She treats the non-trivial melody lines with ease and elegance, even with finesse, showing absolutely no signs of stress. At time she adds small vocalese parts, which fill the blanks and hopefully she will use this technique more often in the future, as she does more extensively on the last tune.

The instrumental performances are also absolutely brilliant. Iwanek is a superb accompanist and plays many stunning solo parts, mostly on acoustic piano. Kapczuk and Kuchczynski are an ideal rhythm section, perfectly on time and in tune, always right there behind the vocals, but never disturbing them with over presence. Kotynia plays some hot guitar parts and it is a pity he wasn´t featured on the entire album. The brass and string sections and even the background vocals all work perfectly.

Overall this is a dreamy debut album, which every young Jazz vocalist would have been proud off. Great music, great lyrics, great vocals and a great team are such a rare combination, and she has it all on this album.

Warmly and wholeheartedly recommended!
---