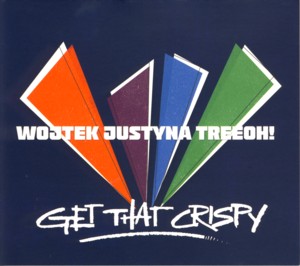 WOJTEK JUSTYNA TREEOH! ~ GET THAT CRISPY
NOT ON LABEL (Barcode: 8714835124337) ~ POLAND ~ Jazz-Rock Fusion
Recorded: 2018
Released: 2018
---
This is the second album by the TreeOh!

Find albums by this artist

ensemble led by Polish (resident in Holland) guitarist / composer Wojtek Justyna

Find albums by this artist

, which also features Austrian bassist Daniel Lottersberger

Find albums by this artist

, German drummer Alex Bernath

Find albums by this artist

and Portuguese percussionist / keyboardist Diogo Carvalho

Find albums by this artist

. The album presents eight original compositions all composed or co-composed by the leader.

The music is contemporary Jazz-Rock Fusion, which also adds elements of Funk, Groove and some rhythmic World Music influences. Based on strong melody lines and catchy riffs, the tunes flow smoothly one after another, presenting a relaxed, good time musical experience, which is accessible and pleasant, but which is also coherent and non-trivial.

The guitar is of course in the very center of this music and Justyna has ample opportunity to show off his refined technique, using a plethora of different sounds and utilizing diverse stylistic approaches, moving elegantly between more Jazz oriented phrasing (mostly on the ballads) and Rock / Funk oriented drive (on the up-tempo numbers).

The extended rhythm section supports the leader formidably, staying mostly in the background but creating a firm basis for his extended solo parts. Lottersberger provides the backbone pulse to the music, always right on the beat, with elegant bass parts and a few nice solo parts. Bernath keeps the music right on the track with his solid but not obtrusive drive. Carvalho is beautifully ornamenting the music with his inventive percussion playing, especially the marimba parts.

Overall this is a fine piece of Fusion music, which is great fun to listen to and should make the fans of the genre happy. This kind of music usually is much more exciting when experienced live, but this album is a helpful driving companion and a persuasive antidepressant. Definitely worth investigating!
---