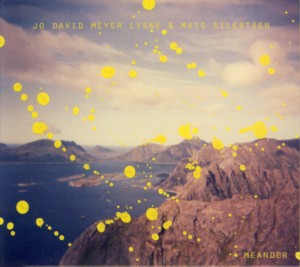 JO DAVID MEYER LYSNE / MATS EILERTSEN ~ MEANDER
ORA FONOGRAM 128 (Barcode: 7090015631286) ~ NORWAY ~ Avant-Garde Jazz
Recorded: 2016
- 2017
Released: 2017
---
This is the debut album by the Norwegian Jazz duo comprising of guitarist / composer Jo David Meyer Lysne

Find albums by this artist

and veteran bassist / composer Mats Eilertsen

Find albums by this artist

. The album presents eleven relatively short original compositions, five of which are composed by Lysne and six are improvised and co-credited to them both. The total duration of the album is about half an hour and therefore it is more an EP than a full album. The music was recorded at the legendary Rainbow Studio in Oslo and engineered by Jan Erik Kongshaug

Find albums by this artist

, which explains the wonderful sound quality of the music.

The five composed pieces are beautifully melodic acoustic guitar / bass duets whereas the six improvised pieces involve usage of electronic devices and other effects, and are ambient in nature. As a result the album is a tapestry of both contrasting idioms, which works quite well together, but requires attentive listening and open-mindedness to make the musical connection.

The musicians are of course excellent performers both as far as players of the traditional instruments and as improvisers, which is clearly evident from the resulting music. The overall atmosphere of the album is somewhat introvert and typically Nordic, but definitely not depressing, rather intriguing. The improvised pieces sound very much like cinematic music, which is able to tell a story.

Overall this is an interesting, searching music, which explores uncharted territory and challenges the listener. A pity the album is so short, but on the other hand it offers a condensed dose of musical adventures, which compensates for the shortness.

Definitely worth investigating!
---