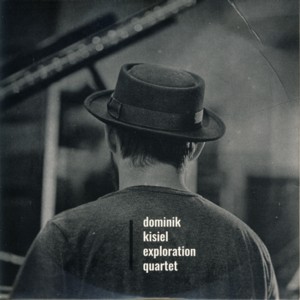 DOMINIK KISIEL EXPLORATION QUARTET ~ LIVE AT RADIO KATOWICE
PRK 0137 ~ POLAND ~ Jazz
Recorded: 2018
Released: 2018
---
This is a live recording by young Polish Jazz pianist / composer Dominik Kisiel

Find albums by this artist

and his quartet called Exploration Quartet

Find albums by this artist

, which also includes saxophonist Michal Jan Ciesielski

Find albums by this artist

, bassist Piotr Szajrych

Find albums by this artist

and drummer Adam Golicki

Find albums by this artist

. The album presents seven original compositions, four composed by Kisiel, two by Ciesielski and one by Golicki.

The music is typical modern young Polish Jazz, based on excellent melody based compositions and superbly performed by these young musicians, who never cease to amaze how well musically advanced they are despite their young age. It is worth to mention that the material present on this album is completely different from the material included on the quartet´s debut studio album recently released on Alpaka

Find albums on this label

Records, which proves the prolific compositional capacity of the quartet members.

The individual performances are all excellent and the concert setting allows the musicians to stretch out and play long solos without being concerned by time limitation often present in the recording studio. As a result three of the tunes performed here last for over ten minutes in duration.

Kisiel skillfully builds up his solos gradually, with excellent usage of dynamics and harmonics, adorned with his technical skill, which is spotless. Ciesielski also stretches out wonderfully, playing with confidence and beautiful sense of lyricism, at all times supported amicably by Kisiel.

The rhythm section does an excellent job as well, with Golicki showing his maturity and experience gained over the last few years. Szajrych keeps mostly to the basics, as he seems to be the most inexperienced player in the quartet, but his performance is stable and accurate, exactly what one would expected from a solid bassist in a quartet.

Overall this is an excellent effort by the young generation of Polish Jazz players, full of great tunes and superb performances, which is a true fun to listen to and admire their talents and abilities. Definitely well done!
---