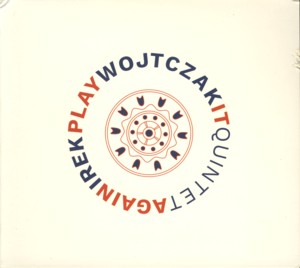 IREK WOJTCZAK ~ PLAY IT AGAIN
FSR 2018/06 (Barcode: 5905279364295) ~ POLAND ~ Jazz-World Fusion
Recorded: 2015
Released: 2018
---
This is a live recording by a quintet led by Polish Jazz saxophonist / composer Irek Wojtczak

Find albums by this artist

, which also includes trumpeter Tomasz Dabrowski

Find albums by this artist

, pianist Piotr Mania

Find albums by this artist

, bassist Adam Zuchowski

Find albums by this artist

and drummer Kuba Staruszkiewicz

Find albums by this artist

. The quintet plays music that was recorded by the "American" quintet led by Wojtczak, which recorded the splendid "Folk Five

Find albums with this title

" album for the For Tune

Find albums on this label

label slightly over a year before this music was recorded. As the title suggests, this recording is another attempt to play almost the same music that was recorded for the "Folk Five" album, but this time by an all-Polish quintet. The album presents eight tunes, all originating in Polish Folklore and arranged by Wojtczak, six of which were already recorded on "Folk Five" and two are new tunes used here for the first time.

The musical concept is of course quite clear: Jazz-World Fusion which transfers some of the treasures of Polish Folklore into the Jazz idiom, an idea that is quite common in Polish Jazz since its Genesis. As usual, some efforts dealing with this concept worked out better than others, but overall the seven or so decades of Polish Jazz produced a sizable and highly original amount of superb music created under this moniker. The aforementioned "Folk Five" album was definitely one of the highlights of that idiom and the attempt to try and repeat the magic that happened on that album was a bold and audacious undertaking. I am happy to say that Wojtczak and his cohorts not only managed to recreate the magic, but also managed to take the music to a higher plane.

There is of course no doubt as to the quality of the music or the level of the execution, they are both simply extraordinary. Therefore the comparison between the two versions of the music must touch upon the fundamental differences between American and European Jazz, of which these two albums are a textbook example or even a paradigm. One might of course say that such comparison is a priori unfair, as the Polish Jazz musicians are way more familiar and culturally accustomed to the Polish Folklore element of the music than their American counterparts. But such argument is simply irrelevant, as these two albums clearly show. These albums are different not because the lack of familiarity with Polish Folklore by the American musicians, but by the intrinsic attitude towards improvisation and even more broadly towards music making, between the American and the European Jazz musicians.

As a result of these fundamental differences "Folk Five" remains an excellent, very well played album, whereas "Play It Again" shows where the same music can get to, when played without the restrictions the American Jazz tradition imposes even on the best musicians. The flair, elegance, imagination, feeling and openness present on this album takes it to a completely new level of awareness and creativity.

But comparisons aside, this is above all a masterpiece of modern Polish / European Jazz, which takes the Jazz-World Fusion idiom light years ahead in comparison to its rather humble beginnings, clearly showing that Polish Jazz is a stronghold of originality, imagination and musical ingenuity.

This is an absolute must to every Polish Jazz fan and a supreme gem of an album for all seasons. Hats off!
---