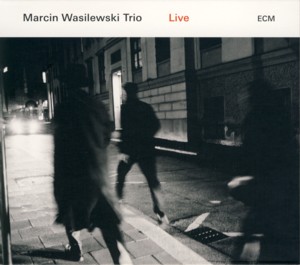 MARCIN WASILEWSKI TRIO ~ LIVE
ECM 2592 (Barcode: 602567384861) ~ POLAND ~ Jazz
Recorded: 2016
Released: 2018
---
This is the fourth album on the ECM

Find albums on this label

label by Polish Jazz pianist / composer Marcin Wasilewski

Find albums by this artist

and his trio, which also includes bassist Slawomir Kurkiewicz

Find albums by this artist

and drummer Michal Miskiewicz

Find albums by this artist

. This is also the first live recording by the trio on that label. The album presents seven compositions (the first two combined into one piece), all composed by Wasilewski except for an interpretation of a song by Sting

Find albums by this artist

and a Herbie Hancock

Find albums by this artist

tune. All of these compositions originate from the trio´s previous album "Spark Of Life

Find albums with this title

" except for one that originates from the second album "Faithful

Find albums with this title

". As usual for ECM recordings, the album offers excellent sound quality and clarity.

Wasilewski and his trio managed to develop a symbiotic musical relationship in the twenty years they played together and ten albums they recorded together, not to mention their work with the legendary Tomasz Stanko

Find albums by this artist

as members of his "Polish Quartet". These years proved to be fruitful and rewarding in every sense, and established the trio among one of the top European piano trios since the turn of the Millennium.

Wasilewski´s role as a composer also developed steadily over time and he is today a core member of the Polish Jazz musical architects, who define the idiom, combining the Jazz tradition with Polish Folklore sources, the typical Polish melancholy and deeply melodic / harmonic sense of beauty and European finesse. His round and elegant music is the epitome of modern European Jazz, continuing the path set by the Godfathers of Polish / European Jazz. Naturally in time he achieved a highly respected position on the local Jazz scene as one of the leaders of the mid-generation and a highly sought after performer.

The trio functions at all times like one body, with the obvious virtuosity displayed by the leader, but not less importantly by the rhythm section, which fused together create an effect that is greater than the sum of its parts. These live recording enables the numerous fans of the trio to experience an instantaneous connection with the process of music making, which of course is much more intensive than listening to a studio album.

Overall this is a superb piece of Jazz piano trio music, performed by Masters and full of delicate and intricate moments hanging in the air, before the next touch of a key or pluck of a string or strike of a stick take the listener to the next magical moment. Elegant, sophisticated, lofty and above all unpretentious and honest, this music is pennies from heaven to every true Jazz connoisseur! Hats off!
---