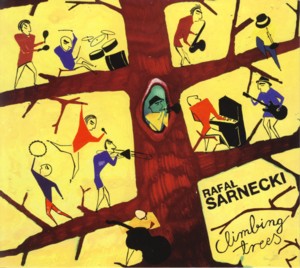 RAFAL SARNECKI ~ CLIMBING TREES
OUTSIDE IN MUSIC 1804 (Barcode: 5908254159800) ~ POLAND ~ Jazz
Recorded: 2017
Released: 2018
---
This is the fourth album by Polish (resident in NY) guitarist / composer Rafal Sarnecki

Find albums by this artist

and the second album recorded with the same sextet, which includes vocalist Bogna Kicinska

Find albums by this artist

, saxophonist Lucas Pino

Find albums by this artist

, pianist Glenn Zaleski

Find albums by this artist

, bassist Rick Rosato

Find albums by this artist

and drummer Colin Stranahan

Find albums by this artist

. The album presents ten original compositions, all composed by Sarnecki.

The music is a continuation of the path paved by this album´s predecessor "Cat`s Dream

Find albums with this title

", which amalgamates a plethora of different influences, including modern mainstream Jazz, but also adding World Music influences and contemporary Classical approach. This album is significantly more open and Freely Improvised than his previous recordings, and as such is noticeably more difficult and complex than anything he recorded earlier on.

All of the sextet members contribute significantly towards the overall result, each in his special way. Kicinska´s vocalese parts are a highlight of the music and she manages to handle the complex and neck breaking parts with stunning ease and elegance. Zaleski lays down the harmonic layers and plays splendid solos, Pino is the calm and cool cat, who adds almost romantic elements, before his improvisations wander into the Free vicinity. The rhythm section handles the tricky tempi and constantly changing beat with flair and obvious dedication and finesse.

Sarnecki limits his guitar performances to the same level of presence as the rest of the band, definitely not dominating the music with his guitar parts, which are just one more voice of the sextet´s overall output. He is obviously a very gifted instrumentalist, but his role on this album concentrates on the compositional level, leadership of the sextet and production.

Overall this is a strong, mature statement, which takes Sarnecki one step further towards his own voice as a composer and instrumentalist, with the music being certainly more ambitious and demanding. Some listeners might need several listening sessions before penetrating the depth of this music, but this ambitious music definitely deserves to be heard and admired. Well done!
---