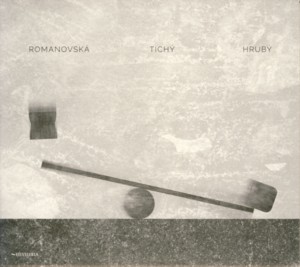 ROMANOVSKA / TICHY / HRUBY ~ ROMANOVSKA / TICHY / HRUBY
HEVHETIA 0165 (Barcode: 8588005258289) ~ CZECH REPUBLIC ~ Free Jazz / Improvised Music
Recorded: 2017
Released: 2018
---
This is the debut album by the Czech Jazz trio comprising of violinist Anna Romanovska

Find albums by this artist

(who also plays the koto), bassist Petr Tichy

Find albums by this artist

and clarinetist / saxophonist Michal Hruby

Find albums by this artist

. The album presents six original compositions, four of which were composed by all three members of the trio and two were composed by Hruby.

The music floats between composed and improvised settings completely naturally and indistinguishably within the same piece, and is mostly very minimalist and open with a lot of breathing space between the notes, which makes the music easily accessible despite its complexity.

Romanovska, perhaps due to her interest in the koto and Japanese music, which followed suit, uses often Far Eastern motifs in her playing, which amalgamate very well with the European sound of the clarinet and the rhythmic patterns of the base. Therefore the overall mood of the music has a distinct World Music influence, which is relatively rare in European Improvised Music.

The individual performance by the trio members are all excellent, as expected form musicians of such class. Hruby is of course in charge of the Free Jazz elements, whereas Romanovska brings in the Folkloristic feel as much as contemporary Classical Music influence. Tichy serves as a bridge between the two soloists and his imaginative bass playing is what keeps the music under control and guidance.

Overall this is a very interesting Improvised Music album, which discloses the existence of the idiom in the Czech Republic, which is not known to most fans of the genre outside of the country. It is also a great example of European aesthetics, which prefers minimalism and minute detail over the wall of sound effect often dominating the Free Jazz / Improvised Music scene across the pond.

Definitely worth investigating!
---