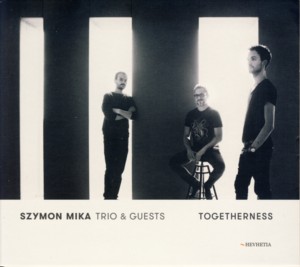 SZYMON MIKA ~ TOGETHERNESS
HEVHETIA 0175 (Barcode: 8588005258425) ~ POLAND ~ Jazz
Recorded: 2017
Released: 2018
---
This is the second album by the Polish Jazz guitarist / composer Szymon Mika

Find albums by this artist

, recorded, same as the debut album, in an intimate trio format with bassist Max Mucha

Find albums by this artist

and Israeli drummer Ziv Ravitz

Find albums by this artist

. Three guest musicians appear on selected tracks: vocalist Basia Derlak

Find albums by this artist

, who also contributed the lyrics to the four songs she appears on, Joachim Mencel

Find albums by this artist

who plays the hurdy-gurdy on three tracks and pianist Mateusz Palka

Find albums by this artist

, who plays on five tracks. The album presents eleven original compositions, all by Mika. It album was beautifully recorded at the Monochrom Studio and engineered by Maciej Stach

Find albums by this artist

.

The music on this album is decidedly more diverse and shows a more searching attitude than the excellent debut album, which is very encouraging and promising development. There are obvious World Music influences present in this music, but also openness and noticeable reach beyond mainstream Jazz, which was still the core of the debut album.

Mucha and Ravitz are ideal partners in this quest for new identity, both of them being unconventional in their approach to music and exceptionally gifted, providing exquisite support to Mika´s lead parts and building a solid, but adventurous, rhythmic layer behind him.

The four vocal tracks are also quite surprising and show another facet of Mika´s talent. Derlak sings in Polish, which is already a good starting point, and handles the relatively complex music with ease and obvious flair. Her Folksy mannerisms are a nice addition to the Jazz setting and I´d love to hear more of her in such setting.

The tracks with Mencel and Palka, when the ensemble becomes a quintet (or even sextet with the addition of vocals) are somewhat different form the trio tracks, offering more conventional melody lines and ambience and adding to the overall diversity and fluency of the album as a whole.

Overall the album is a clear and elegant step forward for Mika in many respects: as a composer, a bandleader and a guitarist. He joins the ranks of the new generation of Polish Jazz musicians, who are gradually taking over the center of the stage both in Poland and in Europe.

Kudos are also due to the Slovak Hevhetia

Find albums on this label

label, which is rapidly becoming one of the most important, open minded and active record labels in Europe and manages to expand its roster of artist to include many of the young generation´s top artists, including neighbors from across the Tatra Mountains, and support them loyally.

Wholeheartedly recommended!
---