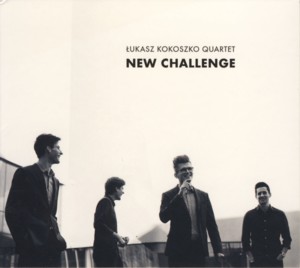 LUKASZ KOKOSZKO ~ NEW CHALLENGE
SJ 030 (Barcode: 5912596066337) ~ POLAND ~ Jazz-Rock Fusion
Recorded: 2018
Released: 2018
---
This is the debut album by young Polish Jazz guitarist / composer Lukasz Kokoszko

Find albums by this artist

, recorded in a quartet setting with pianist Grzegorz Ziolek

Find albums by this artist

, bassist Maciej Kitajewski

Find albums by this artist

and drummer Grzegorz Palka

Find albums by this artist

, all representatives of the youngest wave of Polish Jazz musicians at present (2018). The album presents nine original compositions, all by Kokoszko.

The music is a melodic variety of Fusion, with stronger Jazz ties than usual Fusion material, especially in view of the fact that except for the electric guitar the rest of the instruments play acoustically. The compositions are also more complex than the usual Fusion stuff, so the overall stylistic environment is somewhere between melodic modern Jazz and Fusion. The music is mostly very calm and melancholic, and perhaps more up tempo numbers would have served the album well to add more variety.

All four musicians perform very well, with the obvious emphasis on the leader, who sets the tone, playing the themes and long improvisations. Ziolek also adds several wonderful piano solos and the rhythm section splendidly supports them along the way. Kokoszko is a splendid guitar player, strongly based in the Blues tradition, which is relatively uncommon among contemporary guitar players. His personal style is very unique, which is a great virtue these days, with most guitar players imitating other guitar players.

Overall this is a first class debut album, which shows a lot of potential by the leader and his splendid team. Solid compositions and excellent performances add together to create a very pleasant listening experience and the unusual guitar sound and drive are certainly worth being discovered. Well done indeed!
---