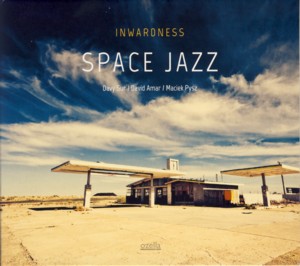 INWARDNESS ~ SPACE JAZZ
OZELLA 085 (Barcode: 4038952000850) ~ POLAND ~ Jazz-Ambient Fusion
Recorded: 2016
Released: 2018
---
This is the debut album by the Inwardness

Find albums by this artist

trio, which comprises of Polish guitarist / composer Maciek Pysz

Find albums by this artist

, French saxophonist David Amar

Find albums by this artist

, who also plays synthesizers and French drummer / percussionist Davy Sur

Find albums by this artist

. The album presents fifteen relatively short original compositions, co-credited to all the members of the trio.

The music, which was "spontaneously composed", presents relaxed and melodic but at the same time improvised vistas with strong World Music influences of many origins, but mostly with a Spanish / Middle Eastern flair, with the album´s title being quite appropriate to describe it. The melodic continuity is at times a challenge, and the music often enters almost completely ambient passages, only to return to a more customary path later on. As a result the flow of the music is very slow and requires dedication and attention from the potential listeners, which often is more than those are prepared to offer.

Pysz is the front instrumentalist, taking upon himself to provide the melodic content. It is interesting to follow his personal style he has been developing over the last few years. His playing on this album is quite different from his previous recordings. Amar mostly deals with the ambient background and plays the saxophone sparingly. Sur ornaments the proceedings with his percussive contribution, but only marginally "keeps time" in the traditional meaning of the term.

Overall this is an interesting album with some Jazz ties, but one that will be of more interest to connoisseurs of ambient, dreamy and meditative music, rather than to hardcore Jazz fans. Definitely worth investigating!
---