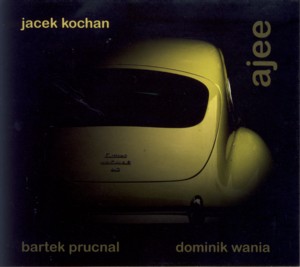 JACEK KOCHAN ~ AJEE
AUDIO CAVE 2018/007 (Barcode: 5905669566599) ~ POLAND ~ Avant-Garde Jazz-Rock Fusion
Recorded: 2018
Released: 2018
---
This is an album by veteran and prolific Polish Jazz drummer / composer / bandleader Jacek Kochan

Find albums by this artist

, recorded in a core trio format with the incredible keyboardist Dominik Wania

Find albums by this artist

, who plays synthesizers exclusively on this album, and saxophonist Bartlomiej Prucnal

Find albums by this artist

. Several guest artists appear, mostly on vocal parts. The album presents thirteen original compositions, nine by Kochan and four by Wania.

The music, as usual with Kochan´s albums, is completely original and unexpected. Characterized by odd meters, which are the drummer´s trademark, it is a form of Fusion, but completely different from the typical Fusion approach. There are elements of Groove, Hip-Hop, Rap and Funk, and the sound of the analog synthesizes (which produce also the bass parts) brings back fond retro memories of early Funk albums and the playing of the iconic George Duke

Find albums by this artist

.

The individual performances by the participating musicians are all first rate, as expected. Wania dominates the album with his synthesizer parts, which expose a new facet of his immense talent. He manages to create a dark, a tad reserved atmosphere, but his virtuosic playing and incredible sense of time are simply astounding. Prucnal adds a more melodic, soulful layer, which at times is very intensive and superbly crafted. Kochan manages to steer the music smoothly through the crazy rhythmic patters, with flair and elegance, which only Master drummers are capable of.

This album is quite removed from the Jazz mainstream and as such it will be probably sniffed at by the Jazz "critics", but Kochan is way beyond such trivialities and his constant search after new forms of expression is a virtue he does not have to apologize for. This album is full of wonderful music, lyricism and sophistication, which one rarely expects to pop up in the Fusion idiom.

Overall this is a superb piece of music, which takes time to get into and get used to, but offers layer over layer of excellent music and fantastic instrumental work by the participants. Hopefully Kochan will continue to explore and expand the horizons of music and I am already anxious to hear his next album, which hopefully will be here soon. Hats off Gentlemen!
---