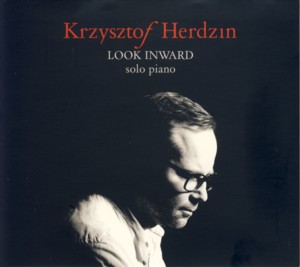 KRZYSZTOF HERDZIN ~ LOOK INWARD
UNIVERSAL MUSIC POLSKA 602557947120 (Barcode: 602557947120) ~ POLAND ~ Jazz-Classical Fusion
Recorded: 2017
Released: 2017
---
This is a solo piano album by Polish Jazz pianist / composer / arranger Krzysztof Herdzin

Find albums by this artist

, who is a highly respected musician on the local scene, known for his professionalism and perfectionism. The album, which is Herdzin´s first solo piano venture, presents nine improvised pieces, which as the album´s title and the liner notes describe, are highly personal reflections of his musical life´s experiences, impulsively created on the spur of the moment.

In the last few years of his career Herdzin gradually moved away from Jazz towards other musical areas, mostly contemporary Classical Music and stage music. This album follows the same pattern, perhaps subconsciously, but it has very little to do with Jazz per se, and is much closer to Classical forms of expression. Although the melodic content is very fragmented, the overall mood is mostly lyrical and romantic, often quite minimalist. Herdzin uses mostly single notes and chords are being used sparingly, which creates tension and anticipation, but on the other hand makes the music somewhat difficult to follow after a while.

Overall this is an interesting experiment, which offers a unique glimpse of Herdzin´s complex musical personality. His customary listeners might find this music a tad too difficult to swallow, surely in the initial attempt, but this album grows on the listener in time. Herdzin is unquestionably a highly talented composer and performer, but he is often more appreciated by his peers than by the general public. It is good to see him let go of his disciplined approach and indulge in improvisation, even if the improvisation is somewhat imprisoned by his subliminal sense of order. I hope this album gets the exposure it deserves, and music connoisseurs will discover another facet of Herdzin´s music. Recommended!
---