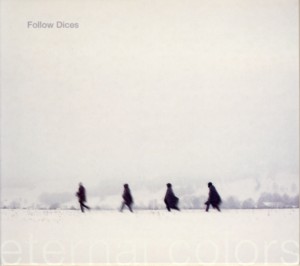 FOLLOW DICES ~ ETERNAL COLORS
SJ 029 (Barcode: 5912596066320) ~ POLAND ~ Jazz-World Fusion
Recorded: 2018
Released: 2018
---
This is the debut album by the Polish quartet Follow Dices

Find albums by this artist

, comprising of pianist Franciszek Raczkowski

Find albums by this artist

, violinist Mikolaj Kostka

Find albums by this artist

, bassist Jan Jerzy Kolacki

Find albums by this artist

and drummer Adam Wajdzik

Find albums by this artist

. The album presents thirteen relatively short original compositions, five of which were composed by all four members of the quartet, four by Kostka, two by Raczkowski (one of them with Wajdzik) and two by Kolacki (one of them with Tobiasz Gottfried

Find albums by this artist

). The album was beautifully recorded at the Monochrom Studio and engineered by Ignacy Gruszecki

Find albums by this artist

.

The music is a wonderful amalgam of Jazz and Polish Folklore influences, with traces of contemporary Classical and Nordic ambiance. The separate pieces can be easily conceived as a continuous suite, as they present a coherent compositional unity and harmonic consistency, as well as stylistic European Jazz aesthetic. Although based on solid melodic themes, the music is generously open and allows free improvisation between the melodic statements. Constantly floating rhythmically and harmonically, the music is in many aspects an epitome of modern European Jazz at its best, presenting intellectual and emotional involvement complementing each other in perfect equilibrium.

All four of these young musicians emerge triumphantly from this ambitious and often quite complex music. Raczkowski weaves the harmonic magic carpet upon which the music floats, Kostka ornaments the proceedings with his romantic and soulful melodic statements, Kolacki is, as expected, the pillar of stability and the beacon pointing out the way and Wajdzik is the master of good taste and delicacy not disturbing the fragile rhythms and playing exactly as much as needed. The unity and cooperation among the band members is truly exemplary.

The album distinctly presents the best of what can be defined as Polishness in contemporary Polish music, i.e. it borrows wisely from the tradition, more conceptually than literally, emphasizing the Polish lyricism and melancholy majestically and with elegance and flair. If someone is looking for an example of "Polish Jazz", this is perhaps one of the best recent examples of the idiom.

There is no doubt that this is a stunning debut effort, which hopefully paves a way for a fruitful future. As such, it is so far one of the strongest albums that landed on my desk (and in my ears) this year, which is a rare distinction. I can only recommend it to all music connoisseurs all over the world, as music of such quality and depth is very precious and rare. Well done Gentlemen!
---