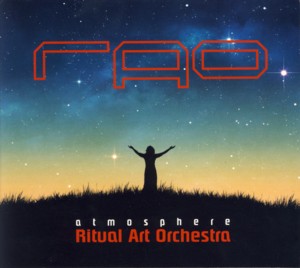 RITUAL ART ORCHESTRA ~ ATMOSPHERE
RG 103 ~ POLAND ~ Jazz-World Fusion
Recorded: 2015
- 2017
Released: 2018
---
This is the debut album by the Polish ensemble Ritual Art Orchestra

Find albums by this artist

(a.k.a. R-A-O

Find albums by this artist

), which already released an album under an earlier moniker (Ritual Duo). The current lineup of the ensemble consists of American violinist / composer Steve Kindler

Find albums by this artist

and Polish multi-instrumentalist / composer Boguslaw Raatz

Find albums by this artist

and percussionist Daniel Mackiewicz

Find albums by this artist

. The album presents nine original compositions, five by Kindler and four by Raatz.

The music is an interesting amalgam of Ethnic / World Music elements, Electronic / Ambient influences and Jazzy improvisations. Although performed by just three musicians, it is heavily overdubbed and often reaches orchestral proportions. The Ethnic influences originate from many different Cultures, like Middle Eastern and Far Eastern, Balinese, African and others, which makes the music diverse and avoids the repetition and sameness that many projects of this kind suffer from.

All three members of the ensemble display their individual talents, which although are quite dissimilar, work very well together. Kindler uses a 9 string violin, which has a very unique sound. Raatz plays guitars and a plethora of ethnic instruments like oud and sitar, each contributing a unique layer to the overall sound tapestry. Mackiewicz adds the rhythmic layer, again using several different instruments, which also enriches the overall sound. The music is very well recorded and the album offers excellent sound quality.

Overall this is a musical journey around the world, which Jazz-World Fusion enthusiasts should find quite interesting and entertaining. It offers many improvised passages and subtle melodies, with a certain New Age flavor, which characterized recordings of this kind in the 1990s. It is definitely worth listening to by people who like this kind of music already, but also an opportunity for others to discover this idiom.
---