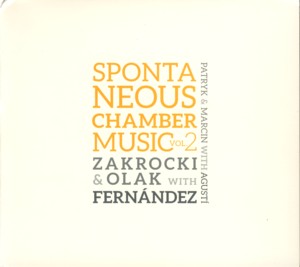 ZAKROCKI / OLAK / FERNANDEZ ~ SPONTANEOUS CHAMBER MUSIC VOL.2
FSR 2018/03 (Barcode: 5905279364158) ~ POLAND ~ Free Jazz / Improvised Music
Recorded: 2017
Released: 2018
---
This is the second album by the Polish Improvised Music duo comprising of violinist Patryk Zakrocki

Find albums by this artist

and guitarist Marcin Olak

Find albums by this artist

, expanded to a trio with the participation of the Spanish pianist Agusti Fernandez

Find albums by this artist

. The album presents sixteen, mostly quite short, completely improvised pieces, which are not specifically credited on the album´s cover art and therefore are assumed to be collective compositions.

The music is a continuation of the ideas first explored on the previous album, which are an attempt to create what the title precisely describes – Chamber Improvised Music – chamber meaning minimalistic, limited by the scope of instruments and intimate.

As such, this music is not very similar to the typical Avant-Garde / Improvised Music outings, which are usually extremely intense and extrovert, with the participants mostly interested in saying as much as possible within the time limitations. This music is much more relaxed, reflexive and modest, based on the intense togetherness and listening to each other by the participating musicians.

Fernandez displays a remarkable self control on this album, playing delicately and sparingly, in complete contrast to other recordings he takes part in, where he is usually quite dominant and outright aggressive. His contributions on this album are all tasteful and wonderfully cooperative.

Zakrocki and Olak seem to have a symbiotic relationship, which is reflected in their telepathic conversations as a duo. Their non-conformist approach to improvisation is fresh and inspiring.

Overall this is a very interesting and rich album, full of exciting moments and relaxed interludes, keeping the listener on his toes for the entire duration. This music is unique and shows a completely different Avant-Garde concept, which allows for calmness and contemplation to replace anger and aggression, which often turns Avant-Garde music into and unlistenable cacophony.

This album is highly recommended for Improvised Music connoisseurs, who are a tiny, but highly loyal crowd.
---