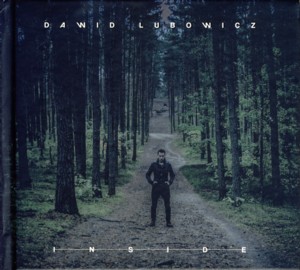 DAWID LUBOWICZ ~ INSIDE
ZBIGNIEW SEIFERT FOUNDATION 5 (Barcode: 5907222048054) ~ POLAND ~ Jazz
Recorded: 2017
Released: 2018
---
This is the eagerly awaited and highly anticipated debut album as a leader by Polish Jazz violinist Dawid Lubowicz

Find albums by this artist

, primarily known as a member of the Atom String Quartet

Find albums by this artist

. The music was recorded in a quartet setting with pianist Krzysztof Herdzin

Find albums by this artist

(who also plays flute and accordion), bassist Robert Kubiszyn

Find albums by this artist

and drummer Lukasz Zyta

Find albums by this artist

. Vocalist Jacek Kotlarski

Find albums by this artist

and keyboardist Tomasz Kalwak

Find albums by this artist

guest each on one tune. The album presents nine compositions, eight of which are originals by Lubowicz and one is by Polish Classical composer Karol Szymanowski

Find albums by this artist

.

Musically the album is quite surprising, especially in view of extensive recorded legacy Lubowicz created with Atom String Quartet and other projects. The compositions are all exquisitely melodic, melancholic and delicate, seemingly "simple" in their scope, leaving the complexity to be expressed via the performance layer rather than making the music less communicative. Such honesty and straightforwardness is an extremely rare quality among Jazz composers these days, which mostly adhere to the notion that music has to impress by its "cleverness" and "intricacy", neglecting the "simple is beautiful" ideal, which Lubowicz is able to bring to perfection herein.

Another significant aspect of this music is its strong connection, almost umbilical, to Polish Folklore, and especially to the music of the Polish Highlanders, which is of course native land of Lubowicz. The ties to folkloristic themes are quite subtle at times and need a trained ear to be recognized, but they are preset almost continually as part of the aesthetic climate this album offers. The inclusion of the Szymanowski composition also refers to the composer´s fascination with the music of the Highlanders.

The decision to use Herdzin as part of the team might seem surprising at first, as Herdzin is rarely used as a sideman these days and his role is usually much more dominant. But in retrospect Lubowicz made the ideal decision, as Herdzin has very few equals when playing "pretty" is in order. He is a master of sweetness and romanticism and his work on this album is simply perfect in every respect.

Kubiszyn is a Master and every album he is on is blessed by his presence. His acoustic bass pulsations and fretless solos are all breathtaking. Zyta is the metronome man, always ideally on time and with the right intensity, even if he is playing just in a duet setting with Lubowicz. Kalwak transforms the single tune he is on into a gleaming magic pearl, full of sensitivity and intrinsic beauty, using his unique "touch".

And Lubowicz? Oh well Lubowicz is a Monster, a quiet, gentle Monster, mind you, but a true virtuoso, who plays music rather than showing his chops, always elegant, stylish and graceful, creating an irresistible urge to embrace everything that his vibrating strings are able to create.

Overall this is a most impressive debut album and the only regret about it is that we had to wait for it for so long. But now, that it is finally out there, don´t hesitate and grab it ASAP and I guarantee you won´t regret it. The album is exquisitely packaged and offers a superb sonic quality, which should make the decision to get a copy even easier.

The album was released by the Zbigniew Seifert Foundation

Find albums on this label

, run by the unwearied Aneta Norek

Find albums by this artist

, who deserves our gratitude for keeping the Polish Jazz violin tradition flourishing.
---