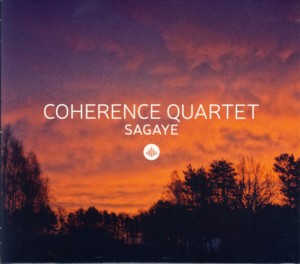 COHERENCE QUARTET ~ SAGAYE
CHALLENGE 73457 (Barcode: 608917345728) ~ POLAND ~ Jazz
Recorded: 2017
- 2018
Released: 2018
---
This is the second album by the Polish Jazz Coherence Quartet

Find albums by this artist

, which comprises of saxophonist Lukasz Kluczniak

Find albums by this artist

, pianist Robert Jarmuzek

Find albums by this artist

, bassist Marcin Lamch

Find albums by this artist

and drummer Grzegorz Maslowski

Find albums by this artist

. The album presents six original compositions, two each by Jarmuzek and Kluczniak, one by Lamch and one co-composed by Kluczniak and Lamch.

According to the album´s liner notes, the music was recorded in the bassist´s living room, using just a very basic miking setup, which worked out splendidly with the sonic result being just spectacular. The album was released on the Dutch Challenge

Find albums on this label

Records label, which seems to have discovered the young Polish Jazz scene as of late.

The music is all within the European Jazz mainstream, strictly melodic and "well behaved", mostly relaxed, contemplative and melancholic, but certainly very aesthetic and interesting. Each of the compositions is splendidly developed by the quartet and offers excellent soloing by all participants and great ensemble playing as well.

To quote the liner notes again, the quartet failed to come up with a satisfactory result in their attempts to record the second album for quite a while, and the homey atmosphere and intimate interplay that these home sessions offer turned out to be the catalyst, which added the missing ingredient.

Overall this album offers superb contemporary European Jazz mainstream, beautifully composed and perfectly executed, which offers the listener a pleasant, but far from trivial listening experience, which keeps him on his toes. Since I am not familiar with the debut recording, it is impossible for me to compare this album to its predecessor, but from what I have read about it, the quartet certainly managed to fulfill the high hopes the debut album delivered.

For the many young Polish Jazz followers, this album is exactly what they expect to hear – great music, first class playing and that specific "Polish" resonance, which is instantly recognizable. Wholeheartedly recommended!
---