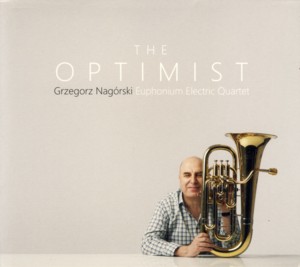 GRZEGORZ NAGORSKI ~ THE OPTIMIST
SOLITON 738 (Barcode: 5901571097381) ~ POLAND ~ Jazz-Rock Fusion
Recorded: 2016
Released: 2017
---
This is the third album as a leader by Polish Jazz trombonist / composer Grzegorz Nagorski

Find albums by this artist

, this time recorded in a quartet setting which features keyboardist Pawel Tomaszewski

Find albums by this artist

, bassist Michal Baranski

Find albums by this artist

and drummer Pawel Dobrowolski

Find albums by this artist

. Nagorski plays this time on the euphonium, rather than on his customary trombone, which makes this album quite unique, as euphonium is rarely used as the leading instrument. The album presents six original compositions, all by Nagorski.

The music is actually quite surprising, very melodic and mainstream oriented, but definitely not trivial. Most of the time it sounds very Funky and offers a lot of Grove and Soul hints and to me is reminiscent to the music composed by the great George Duke

Find albums by this artist

and Herbie Hancock

Find albums by this artist

in their electric periods. Overall it could be described as Jazz-Funk, Jazz-Soul or Jazz Rock Fusion. Nagorski´s compositions are all first rate.

The euphonium proves to be, as expected, a very difficult instrument as a leading voice of a quartet, and in spite of the fact that Nagorski handles it very skillfully, it is essentially up to the other musicians to provide most of the harmonic and rhythmic contents, which of course they do perfectly, as expected from the highly professional and talented musicians they are. Tomaszewski´s keyboards are an absolute delight and he is definitely as excellent in the electric department as he is in front of the acoustic piano and for some time one of my favorite Polish keyboard players.

Overall this is a very pleasant and musically satisfying album, which at the same time offers an attempt to use an unusual instrument in a Jazz environment. The music should be acceptable to a wide circle of Jazz / Fusion listeners and guaranties a well spent time while listening to this music.
---