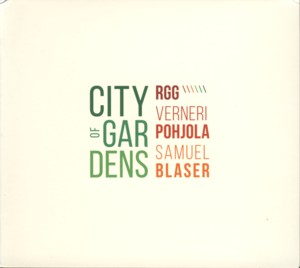 RGG / POHJOLA / BLASER ~ CITY OF GARDENS
FSR 2018/08 (Barcode: 5905279364318) ~ POLAND ~ Free Jazz / Improvised Music
Recorded: 2017
Released: 2018
---
This is a live recording by Polish Jazz trio RGG

Find albums by this artist

(pianist Lukasz Ojdana

Find albums by this artist

, bassist Maciej Garbowski

Find albums by this artist

and drummer Krzysztof Gradziuk

Find albums by this artist

), expanded to a European quintet with the addition of the Finnish trumpeter Verneri Pohjola

Find albums by this artist

and Swiss trombonist Samuel Blaser

Find albums by this artist

. The music was recorded during the quintet´s concert at the XII Silesian Jazz Festival in Katowice, with yours truly present in the audience and therefore also, at least spiritually, a part of this recording. The album presents five original compositions, all by Garbowski.

Although the Polish Jazz scene always had an abundance of excellent Jazz piano trios, RGG certainly deserve a special mention in every respect. Their quest for musical perfection and constant searching, their openness and uncompromising aesthetics, their ability to survive the change of the pianist and continue safe and sound in a natural progression and above all their personal charm are all truly unique. I have of course followed the trio´s development from day one, collectively and individually, and consider them to be a quintessential paradigm of the young post-Millennium Polish Jazz scene.

The trio´s previous live recording, which placed them alongside the veteran British avant-gardist Evan Parker

Find albums by this artist

and their recordings with Polish vocalist Anna Gadt

Find albums by this artist

opened another chapter in their approach to music, namely their hunger to develop collaborations with musicians from outside the trio´s closed habitat. This led also to work first with Pohjola and then also Blaser, which we are able to hear on this album.

Although credited to Gradziuk, the music is of course mostly improvised and the lengthy, between ten and fifteen minutes long tracks, are an orgy of controlled spontaneity and free fall, which is completely captivating. The quintet goes through all the possible iterations, with musicians playing solo or in duo, trio, quartet and quintet settings, all impulsively forming on the stage. But with all that openness and freedom, which can be heard throughout, there is also a magic coherency and discipline, which sets boundaries and defines the scope and form of the music at any given point. This miraculous ability to play free and at the same time show a clear direction is the most important ingredient, which makes this music what it is.

The individual statements are all phenomenal, which is hardly a surprise. Pohjola is definitely stealing a lot of the attention, as his trumpet pyrotechnics are breathtaking, but at the same time his playing is incredibly melodic, lyrical and often purely romantic. Blaser, already a young veteran of the trombone scene, has an incredible technique and no lesser feel, and the sound he is able to produce with his instrument is a ceaseless box of wanders. RGG – oh well they are the locomotive which carries this music along, a stylish carriage full of chic and aesthetic beauty and a red Lamborghini which adds zest and gusto.

This is definitely some of the best Jazz music one can listen to these days, and I wish it gets to as many people as possible, as it is unconditionally superb. I am happy to be friends with these guys and proud of their achievements – they are the kind of people that do not let you down – and that is so rare. Thanks for the music!
---