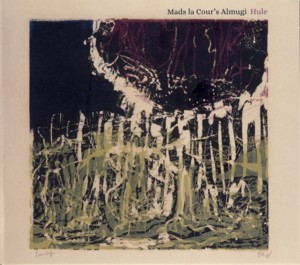 MADS LA COUR / ALMUGI ~ HULE
WHYPLAYJAZZ 044 (Barcode: 4250459991442) ~ DENMARK ~ Free Jazz / Improvised Music
Recorded: 2017
Released: 2018
---
This is the second album (well, second physical album, as two more download only albums were also released on the excellent German WhyPlayJazz

Find albums on this label

label) by the European Jazz quartet Almugi

Find albums by this artist

, led by Danish cornetist / trumpeter / composer Mads la Cour

Find albums by this artist

, which also includes Danish clarinetist / saxophonist Lars Greve

Find albums by this artist

, Polish bassist Mariusz Prasniewski

Find albums by this artist

and Danish drummer Kasper Tom Christiansen

Find albums by this artist

. The album presents nine original compositions, all by the leader.

The music is a beautiful collection of melodic themes, mostly serene and melancholic, with a lot of space and breathing air, which allows for each note to be heard distinctly and clearly. The trumpet / clarinet and trumpet / saxophone duets roll on like intimate conversations with the rhythm section defining the scope and tempi of these conversations, always respectfully in the background but always being an inseparable part of the complete musical unity. Prasniewski and Christiansen already appeared together as a rhythm section on earlier recordings and their playing together tightens telepathically in time.

The individual contributions as well as collective improvisations and ensemble performances are all superbly executed and convey the European Jazz aesthetics, elegance and flair. Obvious respect between the musicians and a common goal of achieving the most fulfilling effect are fully realized herein, and the album is a truly delightful listening experience. The balance between the Jazz tradition and the new forms of expression, treatment of time, rhythm and harmony are a perfect example of the strength and ingenuity of contemporary young European Jazz, which is bursting with talent and creativity.

This album also exemplifies the rapidly developing musical ties between Danish and Polish Jazz scenes, which results is some of the most ambitious and searching Jazz explorations heard today. This album is highly recommended to all modern European Jazz connoisseurs, who are open-minded enough to deal with some degree of Free Jazz, which is well behaved enough to please and avoid chaos, but challenging enough to keep the listener on his toes. Very well done indeed!
---