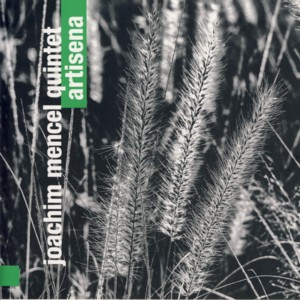 JOACHIM MENCEL ~ ARTISENA
FOR TUNE 0134 (Barcode: 5906395808458) ~ POLAND ~ Jazz-World Fusion
Recorded: 2015
Released: 2018
---
This is an album by Polish Jazz pianist / composer Joachim Mencel

Find albums by this artist

, recorded in a quintet setting with violinist Weronika Plutecka

Find albums by this artist

, guitarist Szymon Mika

Find albums by this artist

, bassist Pawel Wszolek

Find albums by this artist

and drummer Szymon Madej

Find albums by this artist

. It presents a cycle of eight original compositions, all by Mencel, based on Polish Folklore dances. Originally Mencel composed and arranged these compositions for a Jazz nonet, but over time as a result of his process of mastering the hurdy-gurdy, he changed the concept and recorded these compositions in a Jazz-World Fusion approach with the above quintet.

Polish Folklore seems to be and endless source of inspiration to Polish Jazz musicians and the numerous Jazz-World Fusion projects that appear on the Polish Jazz scene like mushrooms after the rain are ample proof of this phenomenon. One can reflect on the early days of Polish Jazz, during the Socialist regime, when Jazz was often presented as Folk music of the oppressed Afro-American community in order to get clearance from the Cultural censorship to organize Jazz events, and later on Jazz musicians had to include Polish Folklore in their compositions in order to be allowed to record an album (same methods applied also to Polish contemporary Classical Music and Rock). In retrospect perhaps these despicable political manipulations achieved an after effect, which is now coming to a most successful fruition out of good will this time.

The music on this album is very melodic and basically mainstream oriented, with the Folklore influences being rather subtle and present most vividly in the rhythmic layer of the compositions. Listeners familiar with Polish Folk dances like Polonaise, Oberek, Mazurka or Kujawiak will probably recognize the patterns, but to those less well-versed in the matter they will become simply a part of the music as a whole. Nevertheless the overall effect is very impressive and aesthetically pleasing. The Jazz facet of the music comes forward during the guitar and piano solo parts and the excellent work by the rhythm section, behind the front players.

The individual performances of the quintet members are all top notch, although Mika simply steals the show with his guitar magic. Mencel is an accomplished pianist but his soloing is rather reserved, which emphasizes the guitar parts even more. The violin and hurdy-gurdy stay mostly in the background and are merely an ambient coloring to the rest of the music.

Overall this is a very pleasant, highly melodic album, which flows gently from one tune to the next, with the Folklore impact being mostly secondary. Great guitar solos spice the proceedings and keep the music on a Jazzy path, to the delight of the many guitar enthusiasts. Definitely on the lighter side of the spectrum, this music is accessible to almost all music connoisseurs, who like cross-genre explorations without too many cerebral obstacles.
---