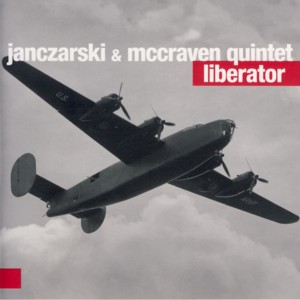 JANCZARSKI & MCCRAVEN QUINTET ~ LIBERATOR
FOR TUNE 0132 (Barcode: 5906395808427) ~ POLAND ~ Jazz
Recorded: 2016
Released: 2018
---
This is the second album by the Polish / American quintet co-led by Polish saxophonist Borys Janczarski

Find albums by this artist

and American drummer Stephen McCraven

Find albums by this artist

, with Polish pianist Joanna Gajda

Find albums by this artist

and bassist Adam Kowalewski

Find albums by this artist

and American trumpeter Rasul Siddik

Find albums by this artist

. Together they perform seven tunes, five of which are originals (three by Gajda and one each by Janczarski and McCraven) and two standards, one each by Woody Shaw

Find albums by this artist

and Billy Eckstine

Find albums by this artist

. The music was recorded live at Warsaw´s 12 on 14 Jazz Club and another venue and has a superb sound quality.

The music is a continuation of the direction established on the quintet´s debut album, i.e. straightforward mainstream American Jazz, very well played and presenting solid composition, but hardly innovative or challenging. It seems that although the majority of the quintet members are Polish musicians, the spirit of the music is completely enthralled within the American traditionalism, which changed very little since the heyday of Bebop half a Century ago.

But innovation aside, this is still a perfectly enjoyable Jazz album, with highly professional playing, which is much more relaxed and less constrained that on the debut album, and full of joy and energy. Considering the fact that mainstream Jazz has a large following the world over, this album should be appealing to many Jazz lovers. It also proves that European musicians are able to play Jazz as well as any American musician, even within the mainstream idiom, and the "White Man Can´t Jump" is a lot of bull.

It is good to see that the quintet gives more exposure to the compositions by Gajda, who is undoubtedly a very skillful and talented composer. Her piano solos are also amongst the most interesting moments on the album.

Overall this is a nice mainstream effort, which should be very enjoyable to a wide range of mainstream Jazz audiences, which presents well woven tunes and heartfelt performance as well as superb sound quality.
---