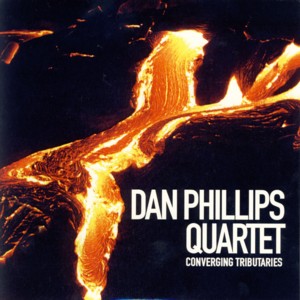 DAN PHILLIPS QUARTET ~ CONVERGING TRIBUTARIES
LIZARD BREATH (Barcode: 075549198976) ~ USA ~ Free Jazz / Improvised Music
Recorded: 2017
Released: 2017
---
This is the debut album by a jazz quartet led by American guitarist / composer Dan Phillips

Find albums by this artist

, with trombonist Jeb Bishop

Find albums by this artist

, Polish (resident in US) bassist Krzysztof Pabian

Find albums by this artist

and drummer Timothy Daisy

Find albums by this artist

. The album presents four original compositions, two by the leader and two improvised pieces co-credited to all four members of the quartet. Philips, Pabian and Daisy recorded several albums together as a trio but this is their fist recording in the quartet setting.

The music is very diverse and moves between melody based contemporary Jazz / Fusion and Improvised Music. The presence of the trombone shifts the music more towards Jazz, in comparison to the a.m. trio recordings, that have a tendency towards Fusion. The two lengthy improvised pieces are typical group improvisations, which allow for solo statements and duo, trio and quartet conversations, which develop spontaneously, at times entering a hypnotic groove stage.

The album enables all four players to display their individual statements, which are impressive, as well as showcase excellent team work, and altogether is a good example of contemporary Jazz, which refuses to stay within the boundaries set by the Jazz tradition and offers cross-genre fertilization. The rhythm section is given an equal status within the quartet and contributes equally, both on the compositional and instrumental levels.

Overall this is an interesting album, which is worth investigating by the open-minded Jazz enthusiasts, who are ready to make an intellectual effort while listening to music, in order to embrace it. Well done!
---