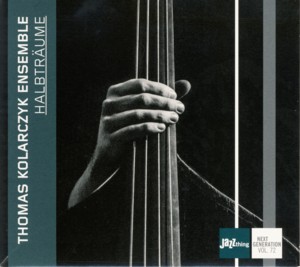 THOMAS KOLARCZYK ~ HALBTRAUME
CHALLENGE 71194 (Barcode: 608917119428) ~ POLAND ~ Jazz
Recorded: 2016
Released: 2018
---
This is the debut album as a leader by Polish, resident in Berlin, Jazz bassist / composer Thomas Kolarczyk

Find albums by this artist

, recorded in a quintet setting with clarinetist Viktor Wolf

Find albums by this artist

, saxophonist / flautist Otto Hirte

Find albums by this artist

, saxophonist Slawomir Pezda

Find albums by this artist

and drummer Kuba Gudz

Find albums by this artist

. Kolarczyk and Gudz were members of the excellent Tone Raw

Find albums by this artist

quartet, which recorded a superb single album back in 2012. The album presents nine compositions, seven of which are originals by Kolarczyk, one is by Gudz and one is an arrangement by Kolarczyk of a traditional tune.

The music is a wonderful modern European Jazz, mostly based on melodic themes, but very open to improvised passages and folkloristic, mostly Middle Eastern and Balkan influences. The quintet´s lineup, which features three woodwind instruments and a rhythm section and no harmonic instrument, creates w beautifully transparent sound with each and every note perfectly audible. The music reflects perfectly the European Jazz esthetics, which has grown infinitely beyond the American Jazz tradition over time, preserving the basic convention of improvisation, but expanding the barriers of the musical possibilities and amalgamating European values and World traditions, revitalizing and constantly pushing the idiom further into the unknown.

The individual performances are all stellar and the album is a constant source of amazement and discovery. The unique and daring music making presented herein is way beyond what one can find on "standard" Jazz recordings, and reflects the specifics of the new, Berlin based Jazz school, which managed in the last decade or so to build a Jazz sub-culture, which is reflected by numerous recordings made by Berlin based musicians, producing definitely some of the most interesting contemporary European Jazz.

The sublime balance between melody and Free Form, straight time and no time, soloing and group improvisation are all present on this album, and add up to an irresistible sonic and intellectual experience, which has but a few equals. As such it is a must have for all modern European Jazz connoisseurs, who are open-minded and embracing enough to face and enjoy the challenge.

Overall this is a tremendous debut album, which marks a giant step in the leaders career and hopefully will be followed by many more recordings, as music of such beauty and sophistication is always a revelation. Stunning stuff!
---