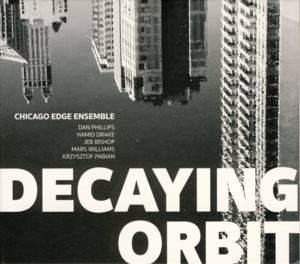 CHICAGO EDGE ENSEMBLE ~ DECAYING ORBIT
NOT ON LABEL ~ USA ~ Free Jazz / Improvised Music
Recorded: 2016
Released: 2017
---
This is the debut album by American (from Chicago) quintet called Chicago Edge Ensemble

Find albums by this artist

, which comprises of saxophonist Mars Williams

Find albums by this artist

, trombonist Jeb Bishop

Find albums by this artist

, guitarist Dan Phillips

Find albums by this artist

, Polish (resident in US) bassist Krzysztof Pabian

Find albums by this artist

and drummer Hamid Drake

Find albums by this artist

. The album presents seven original compositions, all by Phillips, who is the leader of the ensemble.

In contrast to the music Phillips creates with his trio, which is original and interesting, the music presented here is mostly typical American Free Jazz, which did not change much in the last fifty years since its inception. Each of the tracks is based on a sketchy melodic riff, which is than expanded into lengthy improvisations performed by the three front players and supported by the rhythm section, which swings at times and plays free time at others. The ensemble sounds at its best when the music becomes more Fusion oriented, with a strong Rocky pulse and Phillips´ scorching guitar in the lead, but these moments are relatively rare. The music moves between organized passages, with clearly defined roles as far as the players are concerned, and completely Free parts, which are less impressive.

All these musicians are excellent instrumentalist and play formidable solo parts, especially Phillips, whose guitar manages to be searching and expressive. Pabian plays beautifully and his pulsations keep the music together, especially in view of the challenging, but of course excellent drumming by Drake. The trombone and saxophone parts are technically impressive, but offer nothing that was not heard in Free Jazz time and again before.

Overall this is a very solid offer by an excellent ensemble, especially for Free Jazz connoisseurs, but is also accessible to a broader audience since the Free elements are relatively tame and the album also offers quite a few Fusion oriented vistas. Definitely worth investigation!
---