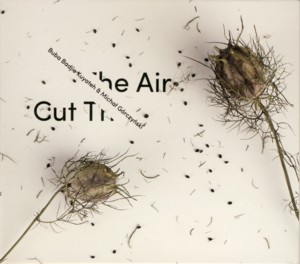 BUBA BADJIE KUYATEH / MICHAL GORCZYNSKI ~ CUT THE AIR
MULTIKULTI MPF 004 (Barcode: 5907529223536) ~ POLAND ~ Jazz-World Fusion
Recorded: 2016
Released: 2017
---
This is the debut album by the duo comprising of Gambian (resident in Warsaw) kora player Buba Badjie Kuyateh

Find albums by this artist

and Polish bass clarinetist Michal Gorczynski

Find albums by this artist

. The album presents six lengthy musical dialogues, credited to both players.

The music is an absolutely glorious testimony of two superb musicians conversing with each other despite the seemingly remote cultural backgrounds. As a result of this telepathic connection the music, mostly improvised, merges the cultures together in a complete natural and harmonic way, as if these cultures were one, or perhaps proving that all music cultures are one indeed.

The individual abilities of these two musicians are obviously virtuosic, but this music has nothing to do with showmanship or exhibitionism, which so often destroy music, being all about the human cooperation, understanding and spiritual unity, being a true "Art of the Duo" in its best incarnation.

Gorczynski, whose roots encompass a wide diversity of musical influences, from Hassidic music, European Folklore, Jazz and Improvised Music, seems to be perfectly at ease with the West African music and his conversations with Kuyateh fit perfectly within the newly created amalgam. The natural contrasts between these two instruments are completely obliterated here and the instruments simply compliment each other despite their different scales and harmonics.

Overall this is a phenomenal album, which should leave no music connoisseur cold, regardless of his musical preferences. This music is universal and goes straight into the listener´s soul and heart, completely effortlessly and overwhelmingly. When the idiom World Fusion was coined, this is what that idiom was really intended to be all about.

This is definitely one of the finest achievements of its kind and should be a part of every decent music collection. Obviously essential!
---