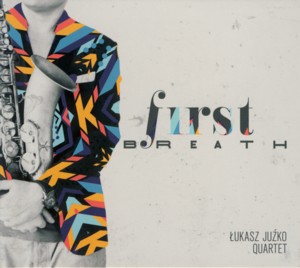 LUKASZ JUZKO ~ FIRST BREATH
SJ 027 ~ POLAND ~ Smooth Jazz
Recorded: 2017
Released: 2017
---
This is the debut album by Polish saxophonist / composer Lukasz Juzko

Find albums by this artist

, recorded in a quartet setting with pianist Michal Wroblewski

Find albums by this artist

, bassist Bartosz Swiatek

Find albums by this artist

and drummer Sebastian Kuchczynski

Find albums by this artist

. The album presents nine original compositions, presumably all by the leader, although the album´s artwork does not state it. The album is beautifully recorded and the sound quality is truly remarkable.

The music is a highly melodic mainstream Jazz, easy on the ear, romantic and basically belonging to the Smooth Jazz idiom, which of course does not mean, contrary to popular opinion, that the music is not ambitious or well played, far from it. The compositions are all very well structured and coherent harmonically and serve as perfect vehicles for the improvisations created by Juzko and Wroblewski.

All four instrumentalist are excellent, playing as well as can be expected from these well educated and talented young musicians, who already have remarkable achievements behind them. Juzko has a nice tone, and his tenor saxophone performances sound highly professional and inspired. Wroblewski is a superb pianist and his chord structures and solos are simply perfectly suited for this music. The rhythm session also performs brilliantly, with a strong rhythmic signature, which gives the music quite a kick.

Overall this is an impressive debut album, which presents Juzko as a mature composer and player, and which shows a lot of potential for his future endeavors. Highly recommended to connoisseurs of melodic Jazz and ageless romantics!
---