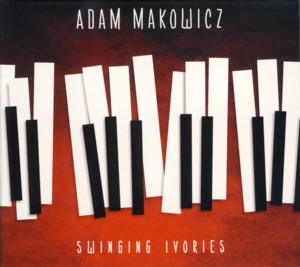 ADAM MAKOWICZ ~ SWINGING IVORIES
POLSKIE RADIO 2169 (Barcode: 5907812247379) ~ POLAND ~ Jazz
Recorded: 2017
Released: 2018
---
This is an album presenting a solo piano recital by Polish (resident in Canada) Jazz pianist / composer Adam Makowicz

Find albums by this artist

, recorded live by the Polish Radio during his visit in Poland. The album includes sixteen relatively short pieces, nine of which are original compositions by Makowicz and seven are his interpretations of Jazz standards.

After being a part of the Polish Jazz core in its formative years, Makowicz left Poland in the late 1970s, first for the US and later moved to Canada. He is the only Jazz musician of Polish origin, who managed to achieve relative success and a respectful position in America, most probably due to the fact that stylistically his playing is as "American" as they come, based on the great legacy of the classic Jazz piano Masters, which he masterly reproduces.

The music is all wonderfully melodic and well within the mainstream idiom, easy on the ear and smooth as a baby´s behind, overflowing with arpeggios and strong left hand rhythmic stride, in short exactly what the fans of such music love to hear. The original compositions by Makowicz sound exactly as if they belong to the standards in the Real Book. There is no innovation or experimentation, but everything is played with taste and perfection as expected.

Overall this is a classic solo piano album, excellently performed and well recorded which should bring joy to mainstream Jazz lovers and melodic solo piano recordings enthusiasts.
---