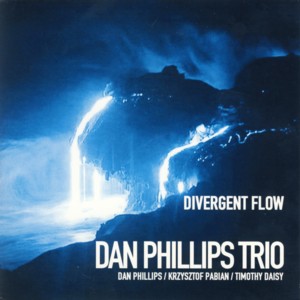 DAN PHILLIPS TRIO ~ DIVERGENT FLOW
LIZARD BREATH (Barcode: 755491110256) ~ USA ~ Free Jazz / Improvised Music
Recorded: 2017
Released: 2018
---
This is the fifth album by American guitarist / composer Dan Phillips

Find albums by this artist

and his trio with Polish (resident in US) bassist Krzysztof Pabian

Find albums by this artist

and American drummer Timothy Daisy

Find albums by this artist

, for whom this is the debut recording with this trio. The album presents seven pieces, five of which were composed by Phillips and two are improvisations attributed to all the trio members.

The music is clearly highly improvised, but maintains some basic structure and melody contents, which makes it very accessible in spite of its free spirited nature. The themes are clearly stated at the onset of each of the composed tunes and then expanded into the Free realm, with an impressive trialogue between the trio members.

Due to the clear and non abusive tone produced by the electric guitar, the bass and drums are clearly audible and the listener is able to enjoy their contributions in full. Phillips uses a lot of echo and reverb which give his guitar an eerie but attractive tone, which resembles early John McLaughlin

Find albums by this artist

´s recordings made almost half a century earlier.

Pabian´s bass is a dominant ingredient of the music, laying the foundation upon the music slides elegantly. Daisy provides a rhythmic barrage, powerful but subtle, which manages not only to keep the music clicking but also ornaments it polyrhythmically. The trio manages to create a typical "less is more" intimacy, which works very effectively, creating an aura of delicate probing in parallel to the melodic lines. Even the freely improvised pieces manage to be deeply expressive and avoid the chaos which such music often falls victim to.

Overall this is a highly original music, which offers superb musicality and a unique sonic experience, which should keep the hordes of guitar players out there licking their lips nervously. Both artistic and professional at the core, this music is a reflection of the Chicago based American progressive / Avant-Garde scene, which is an oasis of Jazz exploration on the great American desert.

Wholeheartedly recommended!
---