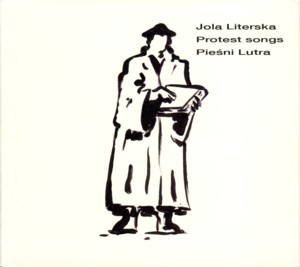 JOLA LITERSKA ~ PROTEST SONGS (PIESNI LUTRA)
PRIVATE EDITION ~ POLAND ~ Gospel
Recorded: 2017
Released: 2017
---
This is a wonderful and completely out of the ordinary album by Polish (well Silesian) vocalist Jola Literska

Find albums by this artist

, which as the title suggests presents her interpretation of eight songs composed and written by the 16th Century Protestant Reformation leader Martin Luther

Find albums by this artist

, who was also an accomplished composer. Literska´s concept is to interpret these songs as Protest Songs, which in many respects they were, considering the theological and social upheaval Luther´s teachings managed to create. Literska sings the songs in the Polish language and is accompanied by a small group of musicians, which includes guitarist Tomasz Bienek

Find albums by this artist

, bassist Andrzej Rusek

Find albums by this artist

and violinist Tomasz Mucha

Find albums by this artist

; all three also arranged the songs. Guitarist Stefan Malejka

Find albums by this artist

and violinist Jacek Dzwonowski

Find albums by this artist

guest on a couple of tracks.

Although the music has distinctive mediaeval characteristics, it sounds also amazingly contemporary, and turns out to be almost Bluesy. The arrangements, which are very delicate and minimalistic, are astoundingly effective and powerful. Literska´s beautiful vocals, which are kept within strict stylistic limitations, amaze with their simplicity and intrinsic gorgeousness. The instrumentalists make every note count and adorn the spiritual music with angelic beauty.

This album is a superb example of great taste, intelligent treatment of the subject matter and divine esthetics, which combined together are simply irresistible. Even without the deeply theological layer, which is expressed by the song´s lyrics, the music has a spiritual nature and quality, which is almost never achievable by today´s musical standards.

Personally I was completely smitten by this concept album, which proves the power of modesty and "less is more" approach, especially if the actual concept matter is as powerful as in this case. It takes a lot of courage to tackle such an unusual and ideologically challenging project and the fact that the result is as powerful and successful as in this case, is truly rewarding.

This is definitely one of the most unusual recordings on the Polish scene in quite a while and I recommend to every music connoisseur, including those who do not know the Polish language, to try and get a copy of this gem. Silesia Rules!
---