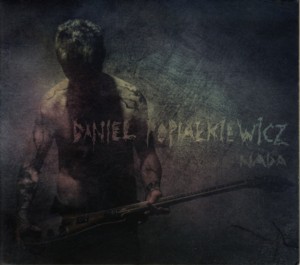 DANIEL POPIALKIEWICZ ~ NADA
NOT ON LABEL (Barcode: 5903111492106) ~ POLAND ~ Jazz-Rock Fusion
Recorded: 2015
Released: 2017
---
This is the third album by Polish Jazz guitarist / composer Daniel Popialkiewicz

Find albums by this artist

, recorded in a quartet setting with a stellar lineup consisting of keyboardist Pawel Tomaszewski

Find albums by this artist

, bassist Robert Kubiszyn

Find albums by this artist

and drummer Pawel Dobrowolski

Find albums by this artist

. The album presents ten original compositions, all by Popialkiewicz (although not explicitly stated so the album´s artwork).

The music is an exquisite, highly melodic Fusion, full of well crafted melodies, quirky rhythms and unpredictable harmonic charges, which keeps the listener on edge during the entire duration of the album, never quite sure of what to expect next. There is a constant feeling of agility and vitality, which drives the music relentlessly straight into the listener´s sub-consciousness, before he is able to analyze what exactly is going on. It takes several listening session in order to comprehend this music in a more relaxed ambiance and start detecting the myriad of interplays, ornamentations and fast arpeggios that happen as if on a separate plane. In short this is Fusion with a high level of sophistication, which basically happens very rarely within the idiom.

Not surprisingly the performances are nothing short of stellar. Popialkiewicz, obviously unfamiliar to Fusion / guitar freaks outside of his country, is such a surprising virtuoso, that most of his fellow Fusion guitar cohorts the world over would be simply left speechless and jaw dropped if they ever listened to this album. He uses a plethora of sounds, techniques, effects and other tricks of the trade, as a result of which he never sounds alike for more than a short while during the entire duration of this album. The only way to understand what I mean is to listen to this music, as words are inadequate to convey it.

But Popialkiewicz gets a tremendous support from his colleagues. Tomaszewski is one of the most talented Polish keyboardists, whose progress in the last few years is nothing short of stellar. He feels perfectly natural in mainstream Jazz and in the Fusion environments and his contributions on this album are absolutely stunning. Kubiszyn is probably the most sensitive electric bass player on the Polish scene, and no wonder that he is highly sought after session player with the top Polish Jazz musicians. His fretless bass playing on this album is a worthy of the status of the greatest mavericks of the instrument in Fusion history. Dobrowolski is an incredibly sensitive drummer, with impeccable technique and atomic clock precision, and his playing, which is way beyond just keeping time, in an integral part of this album´s identity and musical significance.

In short if I had to pick up just one Fusion album released in 2017, this one beats all others easily, leaving only a cloud of dust behind. Fusion and guitar freaks will be fainting to the sound of this album and even a hard-ass critic like yours truly had a hard time to control his emotions. Fusion heaven is here!
---