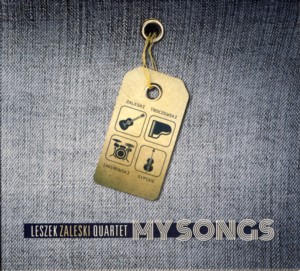 LESZEK ZALESKI ~ MY SONGS
QBK 022 (Barcode: 5901549204247) ~ POLAND ~ Jazz
Recorded: 2017
Released: 2017
---
This is the debut album by Polish guitarist / composer Leszek Zaleski

Find albums by this artist

, recorded in a quartet setting with pianist Dawid Troczewski

Find albums by this artist

, bassist Piotr Sypien

Find albums by this artist

and drummer Marek Jakubowski

Find albums by this artist

. The album presents ten original compositions, all by Zaleski.

The music is a melodic mainstream Jazz, very clean and straightforward and yet elegant and aesthetically appealing. The melodic themes, which as Zaleski states in his liner notes, were composed over a period of several years, are all solid and coherent, presenting a gifted composer, obviously influenced by contemporary guitar superheroes but stating his own ideas.

The instrumental performances are excellent, as expected, no big surprises but solid professional playing and a lot of joy for guitar fans. Zaleski plays both acoustic and electric guitars and his clean tone and imaginative solos are very pleasing. Troczewski also deserves attention, as his piano work here is every bit as strong as the leader´s guitar, beautifully enriching the overall sound. The rhythm section is proficient, but does not step beyond the expected support needed by the soloists, simply doing what is needed in this case.

The recording quality is top notch, which results in a well balanced sound and perfect clarity, which are essential to ensure full enjoyment of the music. The album as a whole should satisfy all guitar loving music connoisseurs, who are not looking for experimentation or groundbreaking excursions, but who love to sit back and enjoy a set of beautifully melodic tunes played exactly the way they should be. I hope to hear more from Zaleski and his team in the future, and in the meantime enjoy this little gem to the max!
---